I've splitted my diary now to individual months - so - the default page will be the diary of the current month. Here are the links to the other entries so far:

February 28th
Last full day in good old austria. I finished packing quite early in the morning. After that I realized that my internet-provider already closed my web connection - I can tell you - I was not really amused - but a phone call and 2 hours later - everything was ok again. I made my last visit to Didi,Sandra and their children - having a last coffee and the last freistaedter beer. Now - its noon - I only have a few things on my todo-list - like: going for a last coffee to my office - last coffee with Martin in Coffeeshop-Company and the last salsa in Remembar. I guess that the next entry on my website will already be when I am in Boston. Therefor I see Farewell!!
February 27th
Its been a nice day at home - meeting my parents, aunt, brother, sister, nephew and nieces. They gave me a nice present. A shirt with all of their handprints.
Check out the new pictures in my Picture Gallery for USA - you will also find the pictures from the Farewell Parties there!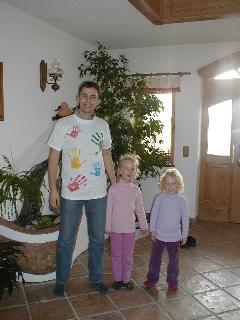 My two nieces - and me - with the shirt!
February 26th
Its 11 AM - and I have to say - good morning. It was a nice night yesterday. The Pub was not too crowed - well in fact - I hardly remember those times when it was crowed - but thats a different story. It was really nice there - seeing some of the friends from Gallneukirchen the last time - drinking - playing dart and dancing.
Normally - when I go out in Linz - I step by at the Wuerstelstand on Taubenmarkt - getting a Kafka before I go to bed - or maybe a Kebap in the Altstadt. Well - Gallneukirchen is not Linz - so there is no way getting food like this at 3 AM. The workaround for this is to go home and check the fridge of my parents - and I found lots of good austrian food that you should not eat at this time - not just before you go to bed. But it was soooo good. So - looking forward for tonight - last time in Walkers - well - maybe not the last time. Udo and Martin (aka Mole) seem to have no time tonight - so we will probably go out tomorrow - and I guess it will be Walkers again. But for those of you who have time come by and have fun with us. I hope I dont forget my camera today - because I forgot it yesterday - so - pictures will be uploaded tomorrow. cu!
Here are the first pictures - more to come:
| | | |
| --- | --- | --- |
| | | |
| Questions for me - in order to get my very personal present | Working and Ex-Working Collegues | Seems that Silke was not quite sure if everything that I did was ment that way |
| | | |
| Aaahhh - whats that? | Alex - most favorite barkeeper in Remembar | Max and Silke in Remembar |
February 25th
Last official day in the austrian office. Strange feeling - but I will visit the guys in linz again on monday - for a short coffee break!
Tonight - we will be in Pub Hoppala in Gallneukirchen - whoever has time - join us there. bye
February 24th
Well - its been a long day - getting up 5:30 AM - to the airport - to Duesseldorf - picked up by Stefan - driving to Cologne - meeting at the customer. Just came back with the last flight from Duesseldorf - and as it has been a long day I say good night!
February 23th
It has been a tough day at work. Lots of work - meetings - WebEx - preparation for tomorrow. Then - troubleshooting problems at my brothers laptop. Well - just came home - 8PM - time for a Luitpold - time to relax!
February 22th
Today is Post-Birthday celebration for Juergen. He did not had time yet to come together since his birthday end of january. He promised us Spagethi - we are all looking forward to it!
I guess you can imagine the following situation: When you go away for a time and this time draws nearer you do things that will be the last time till you move - like - the last time you meet someboday - or the last time you go out - .... . When I woke up this morning and looked in the mirror - I experienced another "last time" (hopefully). It was a nice little fever blister! Hopefully the last till I leave :-)!! Have a nice day
February 21th
Salsa-Time again. Its only this and next monday before I hope to find some Salsa locations in Boston. cu
February 20th
Just came home from the birthday celebrations. It was a nice evening - very relaxing - good for me as I was extremly tired after the long skiing day.
Here some pictures from the evening - and the following breakfast this morning:
| | | |
| --- | --- | --- |
| | | |
| Professional "Nachwuchsarbeit" - now you know why austrian kids smile so often | He was a bit ill - but posing professional for the picture | Breakfast in the morning - I will miss this |
February 19th
Skiing and Birthday Celebrations
Skiing in Hinterstoder - meeting some of my friends. In the evening - pre-birthday celebrations for Tanja and Sandra. The twins turn 30 in a couple of days! Pictures will be published on sunday!
Here some pictures from skiing:
| | | |
| --- | --- | --- |
| | | |
| To Enjoy - Picture 1 | To Enjoy - Picture 2 | To Enjoy - Picture 3 |
| | | |
| Klemens - we two had a special program today - sooo much skiing on one day! | I pretended to be Hermann Maier | Klemens and Gabi - at lunch time with Berner and Germknoedl. |
February 18th
Today started pretty good. Udo and I went to Wels. There is a beer-store where they have 120 different kinds of beer. And of course - the have Prinzregent Luitpold! We bought some boxes - for us and for some of our collegues at Segue. We had a pretty long All-Employee-Meeting starting at 4PM. To make the time easier for us to handle - we tasted some Luitpold.
As I am going skiing tomorrow - my evening activities have been very limited. Going to Josefs - meeting Roman and Marion for a short chat. Continued in Remembar and Walkers without any chance of getting a nice dance. Therefore I went home pretty early - getting some sleep in order to have a nice skiing day tomorrow! Good Night!
February 17th
Look at those pictures. I've received my visa this week and I also got my flying tickets today.
My VISA - a new page in my passport!! Granted till 2008!
Tickets - from Linz via Zurich to Boston!
February 16th
First FareWell Party at Segue
The first party is over. I celebrated my US trip with the collegues at Segue. We had Weisswuerste and Weissbier. The amount of beer and sausages was not calculated too well - we were out of food after 30 minutes - and out of beer after an hour or so. But we at least solved the beer problem by ordering a new keg.
| | | |
| --- | --- | --- |
| | | |
| Udo and the crazy guy | Marcel - getting one of the Weisswuerste | Xi and the crazy guy again |
| | | |
| No comment | Lampy, Tom and Udo | Guess who? Udo and the crazy guy again! |
February 15th
First Regulars Table of UDA
We - the graduates of the University of Derby in Austria - have a regulars table tonight at 7PM at Klosterhof.
February 14th
Valentine's Day
For me - this day - as many others - has been introduced by the economy in order to generate extra money. Well - I do hope that you have your Valentine and are able to purchase some extra expensive flowers or candy's. My Valentine will be Salsa tonight. cu there
February 13th
Spent a nice afternoon in Walkers with Mole, Alex and Udo!
February 11th
I've been to Walkers - arranging the Farewell Party - please read the details on the front page.
After a bit of Rueada and Salsa dancing I decided to save my energy for tomorrow - going to bed pretty early for a usual weekend day. So hopefully I will be back tomorrow with my usual "Going-Out-For-Party"-Strength. Good Night
February 10th
BIG DAY!!! Applying for the Visa!! I have an appointment at the US Embassy in Vienna!
Visa stuff was very straight forward - it took me about 40 minutes - actually 39 minutes of waiting - 1 minute of interview! The interview was funny. 3 questions were asked: how long are you going to stay - what is your job title - how long to your work for your company! Then 2 fingerprints and out!

In the evening - we (Karin, Martin alias Resl, Claudia and myself) helped Sandro in his company merging together some samples of their product in order to give those samples to their dealers. Here are some pictures of this evening!
| | | |
| --- | --- | --- |
| | | |
| Sitting in the common room merging the sample pieces | Thats the result - we made more than 200 of those | One of the shopping carts that we filled |
| | | |
| Well - we also had fun - or was there any other reason why they smiled? | No comment! | The final result! After 3 hours! |
February 8th
Faschingsdienstag
It was again a funny night in Walkers. But before we went there Udo and myself did some Warm-Up at my place.
At Walkers the first two things to check out - now guess - yes - it was wheat beer and the dance floor. It seems that nearly all that I drunk was directly sweat out again. So - at about 2 or 3 AM I was not just a normal seaman any more - I looked like a seaman comming directly out of the sea!

Udo - the religous monk. But the only thing he believes in is a box of Luitpold's!
February 7th
The day was not as tough as I thought after only having 3 hours of sleep. I actually planned to sleep longer - but some people that I know canceled my plan. After getting to bed at 5 AM I received my first phone call at 8 AM - followed by a visit from my aunt at 8:30 with the touch down at 8:45 - that was the time when my neighbor stared drilling in the appartment.
But at it is monday again - which means salsa time - there is no time for a rest. cu
February 6th
Its SUPERBOWL Time
New England Patriots vs. Philadelphia Eagles - 4 hours of American Football. Its been the 3rd year in a row that we had this Superbowl evening. Starting with Poker at about 9PM till the kick off at 0:30! Although I was not really fascinated about this sport at all - when we started this 3 years ago - I have to admit that there is a special type of excitment when you watch this final. And now - in the 3rd year - I almost know most of the rules - which makes it easier to follow and cheer for the right team when they score points.
In the end - not only the team from Boston won. I was one of the lucky winners in the poker game. Those two incidents made it easier to get through monday with just 3 hours of sleep.
Bye - till next year!
February 5th
Piratenball in Posthof!
As every year - we dress up in funny costumes and have fun - dancing - drinking - ...
See some of the pictures from yesterday!
| | | |
| --- | --- | --- |
| | | |
| Dressing up at Irenes Place | Markus as Biene Maja - I guess he was lucky having those glasses - nobody could see his tired eyes! | He tried to impress with a very legitimate costume |
| | | |
| Birgit and Dani - they have been our Candy-Girls | Me and Gimli - her frieds Legolas, Aragorn and Gandalf completed the companions | My special friend Britney was also there! |
February 4th
Lots of fun in Walkers - sorry - no pictures
February 3rd
Caipi and DVD time at Gerhard's Place.
It can be seen that I am not the only one with a passion for Caipis
This picture was luckily taken at the start of the evening. The smiles on our faces changed with every drink!
February 2nd
A new month - and only 27 days to go!
I just purchased tickets for the U2 Concert in Boston on 26th of May!! Thats all that I've to say for today. cu later