I've splitted my diary now to individual months - so - the default page will be the diary of the current month. Here are the links to the other entries so far:

September 29-30th
Well - the last entry for the month. Its been a long day. We had a long training session at BMC today - finished with a nice dinner. Tomorrow will be another long day - getting up early - doing training - flying home to Boston to get home around midnight. that means - no salsa tomorrow - but hopefully a good trip without delays.
Thats all to say about today - good night!!
(-------- Update -----------)
Just an update on yesterdays events: As you can see in my guestbook I somehow managed it to do a good training so that one of the guys in the classroom left me a messgae (I really didnt pay him for that!!!!!!).
Arriving at Logan Airport at midnight, sarah picked me up, we lost the way on our way home (missed a turn and some things more :-) ) and I had to be the smart guy to find the way home - what a bostonian I have become!!!!!. Something else happened yesterday - you at home in europe might not know about that - but the last 3 games in the baseball pre-season are currently played. Its again a head-to-head challenge between the boston red sox and the new york yankees. And guess what - the last 3 games are played here in boston against the yankees. So - yesterday night was the first game and they kept us updated on the score on the plane. Red Sox won!!!! yeah!! - well - I dont really care - but its good that way - otherwise we would just see lots of depressed people!!! And of course - its good that the yankees lost - as sarah is a yankees fan - i can tease her!!
As for saturday: we are going to check out Haymarket. bye bye
I am definitly not a Van Gough!!
Classroom picture number 1
Classroom picture number 2
September 28th
From Boston to Houston
Its been an interesting day. Working from home in the morning - taking the T to Sap TechEd - doing my job there - taking the T to the airport - taking the plane to Houston. I just arrived here - nothing at all to see from any impacts caused by the hurricane. But I can tell you - its sooo hot and humid here - amazing. Well - I have to get to bed now as I have to get up early to get to the customer. But here are two pictures from my hotelroom with a nice list of prices of the hilton breakfast hotel chain.
| | |
| --- | --- |
| | |
| Temporary office - my hotelroom with broadband internet access - yeah!! | The prices here are not too bad - but you should see the minibar - $4 for a bottle of water |
September 27th
SAP TechEd
Today and tomorrow are totally dedicated to SAP's TechEd that is taking place here in Boston. I would have been there till thursday but I have to fly out to Houston tomorrow night to do the training at a customer that I was suppossed to do last week. The TechEd is taking place at the boston convention center which is pretty impressiv. Check out the pictures.
| | |
| --- | --- |
| | |
| The exhibitor and dining hall - thats just a small part of it!! | they had some delicious food in the evening |
| | |
| The evening session allowed the participants to meet with the exhibitors (like us) | Mark and myself at our booth |
September 26th
Its been a normal day at work. I will go out downtown tonight - meeting Mark at the Purple Shamrock. He just came in from Belfast and will spend the week here in boston as we both will be at the SAP TechEd this week. Well - thats it for today. bye bye
well - one additional note - before i forget - it seems that I come back a weak earlier - on the 14th of december!
September 25th
Cool Weekend
Its been a fabulous weekend - although i missed the bike day of segue austria. But here is what I did the past two days.
Saturday - driving up to New Hampshire picking some raspberries near concord. I am waiting for the invitation of Sarah to prepare some vodka with those berries that we've picked. After that we went on to Hillsborough where the Schnitzelfest was celebrated. It was actually really nice - they had 4 different dishes: breaded schnitzel, grilled schnitzel, some sausages and something for the kids. And they also had loewenbraeu beer which we - against the law - consumed outside the festival tent.
At the summer camp at night the remaining staff had a party where everybody was suppossed to dress up in a custome that reflects his/her prefered century. They played a strange drinking game that I've seen once in new york city. I think its called BeerPong. Check the pictures. After the party we checked out their sauna - yeah - they do have a saun there - but they do it a bit different than here. Rather than a short hot session we had a longer one with a nice warm temperature - jumping into the lake afterwards to cool down.
Sarah and I spent the night outside on the lake - they have a raft out on the lake where we slept. It was a bit cold but watching the sunrise in the morning over the misty lake was breathtaking!
Today was "Super Cleanup" day in camp. Besides that I got an hour to test my new running shoes - they worked well.
Now I just got home with the bus waiting for Stephan to come home to enjoy a final "good bye weekend beer" at christophers.

P.S.: Sorry mum - she was worried this week because I told her that I am in texas when I left linz. I should have called her that I postponed the trip.
| | |
| --- | --- |
| | |
| Raspberry picking - yummie!! | This guy took the orders - he looked prepared for the Oktoberfest |
| | |
| I was testing the schnitzel - it was ok - but I've never had it with Sauerkraut before | Which century has he escaped from?? |
| | |
| Nice dress up for the party | The drinking game - its allowed to distract the oponents with whatever it takes :-) |
| | |
| The game from the side - you have to hit the ball into the beer cups of the other team | Sunrise over the lake - beautiful |
September 23rd
Time Compensation
Well - today I officially had time compensation - but just officially as customers, sales or consultants dont really care about those things. But anyway - its been a nice day. Sarah came down thursday night and we made short tours through cambridge today. We have been pretty successfull - two new shoes for me - action on the university campus, an overpriced tiny salad and lots of salsa.
Tomorrow is the day of the Schnitelfestival - I am wondering what this really is as I cannot imagine that it is something that really makes me think of home - but I will take pictures for you.
Thats it for today - here are pictures from our tours through cambridge:
| | |
| --- | --- |
| | |
| Yummie!!! Bagels at Bruggers in the morning | American Engineering at its best!! |
| | |
| Doughnuts - thats why americans get that BIG | Like kids - we played at the university playground |
| | |
| Yeah - me too - I admit | Salsa lessons - we learned a new move - yeah!! |
September 21st
Sit and Waiting
Hi there - right now I am sitting here in the appartment - waiting for a decision to be made about my trip to Houston. As you may know - a new hurrican is threating the southern states - especially texas. And well - houston is right there on the sea. So - if I would fly down there today I might not be able to get back on the weekend and I am not really sure if it really makes sense to go down there as texas is already in the state of emergency. But I am waiting for a decision right now - made by our sales guy and the customer that I am suppossed to visit.
Well - no pictures from Stephan and me drinking schnaps - reason: I was falling asleep right after 11PM and he worked in school a bit longer. Thats it for now - in 3 hours I am either on the airport or on my way into the office - cheers!
-------------------------- (Update)
Rita changed my plans - therefore I wont go to texas this week - its been postponed to next week - cheers.
--------------------------- (update)
After a day in the office I made a quick bike tour - realizing that my bike need some fixes. After that - Stephan and I went to Christophers - yeah - you know what we had - Julius Echter and Nachos. Now - after this delicious meal we came home - having some Schnaps from home. Prost!!
| | |
| --- | --- |
| | |
| Yummie!!! Nachos and Wheat Beer | Trying to make a nice picture of us!! aren't we lovely? |
September 20th
Back to Boston
Hi there - just arrived in Boston. It was an easy trip. But before the trip I had a final visit in the office to say good bye to everybody. Then I went home to my parents where I was offered a very very typical austrian dish: Beuschel!! I guess that some of you are disgusted now as it is a dish that you either like or just dont like at all - but I am on of them that like it - yummie!!!
So - trip was easy - got some sleep on the plane and I was happy getting in the appartment seeing a fridge with Julius Echter, food and apples. I went down to the school where Stephan is still teaching - I hope he comes up soon so that we can have a nice "Welcome Schnaps"
What I am getting worried right now is what they show on Tv - its the next hurrican: Rita. Its heading towards texas where I am suppossed to fly tomorrow. My collegue that is currently down there already changed his flights to get back home before friday. I hope the customer is allowing me to change my flights as well - I dont want to be trapped down there!
Other facts: Its really hot and humid here - unusual for this time - but nice - better than back home where we did not really had a nice summer.
Well - thats it for the first hours here - if Stephan comes up soon enough I will shoot some more pics - but here are some that I've taken so far!
| | |
| --- | --- |
| | |
| Stephans private TODO list - he managed to do everything | Fridge with beer, food and chilled glasses |
| | |
| The presents that I brought: Schnaps, Mozartkugeln, Cookbook, austrian salt (stephan collects salt) and some punsch fix for the colder times | Yeah - Julius Echter |
September 20th
Time to change Homes
Its time - 5 weeks have past quickly. I tried to meet most of my friends and do lots of things - but 5 weeks are just to short to accomplish everything that I had in mind, for instance: checking out the big luitpold glass of udo (the prinzregent).
It will be a busy week and I am not sure if I will have to time to update my website frequently. Today I fly to Boston - I will stay there overnight going on to Houston on Wednesday. I will stay there till friday night - comming back to Boston around midnight. Saturday - early start - up to New Hampshire - visiting Sarah - checking out the Schnitzelfest in Concord.
I hope you will continue checking my website as I think its a great medium to keep you updated about the things that go on abroad. And for those of you who thought that I am just drinking beer and have fun when I am in the states (based on my diary entires): Well - its true - i enjoy my life in the best and extensive way while I am in Boston - but there is also lots of work to do. cu all around christmas!!!!!
September 19th
Last Salsa Monday
Its been the last salsa monday in the Remembar for the next 3 months. And it was fantastic. I was happily surprised that Alexandra (my salsa dance partner) made it to my last salsa evening although she was not too healthy - thanks for that. Another nice surprise was the Roby was there as well - celebrating his 25th birthday. Check out the pictures:
| | |
| --- | --- |
| | |
| Samy and Birgit | Alex had to leave earlier - but there was time for a final picture |
| | |
| Birgit and Martin (aka Resl) | Midnight - that was the time when we realized that Roby had his birthday |
| | |
| Thats really latin - sometimes is close to porn :-) | Daniel with two of the salsa club girls |
| | |
| Another good bye picture - thanks for my last salsa this night | Joe - I owe him my salsa skills |
| | |
| Daniel - its just awesome watching him dance | More dancing |
| | |
| Lovely - isnt it | Good bye mr. birthday |
September 18th
2 days to go
Its been a great farewell party for Silke. We started in Josefs where she got some presents from her friends. After that we tried to find a nice place where we could hang out and dance. Well - since the back room in Walkers is closed - the only remaining option seems the be the Remembar as the Globe Bar did not really attract us.
Lunchtime today was a good austrian meal at Babsi and Juergen - thanks for that - and for the nice afternoon. After that I needed some more excercise - it was just too much food this weekend. So I decided to take my bike up to Gallneukirchen.
Right now I am sitting at home - watching Password Swordfish - and getting ready for my trip back to boston. There are two things I have to say:
1st: Its ridiculous how hollywood shows the work of hackers - but its fun as well. Its the movie that I am just watching. A guy sitting in front of a high end computer system, hitting 1000 keys in a second watching 3D animations that represent his trojan horses. Anyway - its fun but ridiculous.
2nd: I just checked the places I've been so far and I hope I can extend my pins on my wallmap a bit more over the next 15 months.
Thats it for today. Tomorrow will be the last salsa monday and then on tuesday its time to go back to boston - well - it will be just a short pit stop in boston as I have to go on to Houston on wednesday.
Good Night!
| | |
| --- | --- |
| | |
| I started packing luggage for my trip | My wallmap - I hope to add more pins on it when I am back |
September 17th
Soccer and Chilli
As mentioned earlier - we (Didi, March and I) went to Ried im Innkreis - visiting Klemens and Gabi. They wanted to check out the stadium in their home town and asked us whether we would be interested to watch a game with them. We started with some delicious chilli from gabi - then the game Ried vs. Graz - then back again to finish the chilli.
Here are some pics.
| | |
| --- | --- |
| | |
| Klemens and his delicious whiskey | Austrian stadium food - beer and wuerstl |
| | |
| Martin (aka mole) was taking pictures at the game | The fan sector of the guests - they made more noise than the rest of the stadium |
| | |
| Action - Action | Struggling with Chilli!!!! |
September 16th
Soccer - Long shopping friday - Sturm
Its been the first game of the season for me - and unfortunately the last for a the next 3 months. We played soccer again in the Koernerschule - with a premerie - we had the first girl playing with us. And I can tell you - she played better than most of us.
Yesterday we had the "Long Shopping Friday". It might be hard to understand for those of you living outside austria - but here - the shops usually close at 6. Therefore - the long shopping day is a big attraction - they open till 10PM. Besides that they had people here from the Steiermark. They had great wine, schilcher and sturm.
The evening ended - as usual - in the Remembar.
Today is another event on my list. We are watching the soccer game Ried vs. Graz in the Rieder Stadium. Klemens and Gabi wanted to check out their local stadium and therefore asked didi and me whether we wanted to join them. Non of those teams is really one that we support, but its suppossed to be a nice evening event.
After that we will say farewell to Silke. She is going to do development aid in Zambia for the next 3 months.
Thats it - cheers
| | |
| --- | --- |
| | |
| Some soccer action - sorry that those sport pictures are not as good as martins | Franny and Irene with me having some styrian spirit |
| | |
| Andrew - a musician from australia | Wine and Sturm - thats what makes the world (or your digestion) go round |
| | |
| Alex - back from his army service | Martin and Max - and whoever this guy in the back is |
September 14th
Champions League
Its been some time since the last austrian soccer club played in the highest european soccer league. Tonight was the first match of this season and - although I am not a fan of Rapid Wien - I am sorry that they lost 1:0 against Bayern Muenchen. Bayern was definitly the better team - but our guys had some really good chances.
But the evening started with a good event - i was invited for dinner at Irene - thanks for the delicious meal!!
Sarah just informed me about a cool event that is going on next saturday - they have a Schnitzel Fest in Concord (New Hampshire). So I might go up there - eating some Schnitzel and hopefully drinking some good beer!!!
Good night!
September 13th
Lustig Essen
Lustig essen - translated it would mean "Funny Eating". Here is the website: Lustig Essen.
Barbara, Juergen, Sandro and myself went out for a nice dinner where we had a delicous meal. Lustig essen is really nice. Here is my menu for tonight:
- Spinatsubrice mit Raeucherlachs und Dilljogurt (some spinach with salmon)
- Schnecken in Gorgonzolaschaum dazu Baguette (Snails with gorgonzola and baguette)
- Rinderfilet mariniert in Rotwein und Nuessen auf Dijonnudeln (Beef with red wine and nuts on noodles)
- Cordon-Rouge mit feurigen Erdaepfeln (well - it was just very good)
- Topfennougatknoedel in Schokobroesel und Zwetschgenmus (Curd cheese dumplings with choclate and plumb mouse)
Anyway - its been really really delicious!! After that we went to Papa Joes for some cocktails and right now Sandro and I am sitting here in my apartment - drinking a good Californian wine. cheers,
| | |
| --- | --- |
| | |
| My desert - the curd cheese dumplings | Cocktails at Papa Joes Bar |
| | |
| Yahoo - Sandro and I drinking our Caiprinias | Sarah nows how this picture got taken!! Look close for the New Hampshire sign |
September 12th
A night full of Salsa
Its been another sweaty night at the Remembar. 5 Hours of Salsa dancing - yeah!!!
Its been a special pleasure as it might have been Silke's last salsa monday before she is going to Sambia to do 3 months of development assistance. Well - there is no more to say. It was fun and it there is only 1 monday left till I will go back to Boston. I am looking forward to going back there but I think I will also miss the scene here. Home is home - and thats what I've realized in the past weeks. There are small things that make it so nice being here - and I hope I will have the chance to show Sarah and - if possible - Stephan - how beautiful our country can be. Good night!
September 10th
Warschifest
Its been a nice saturday. We - the JVP Gallneukirchen - had our annual party at the Warschenhofergut. The first time in years - the weather god had merci with us - it was not raining - at least not in the beginning.
So - we started with some set up work at noon and started our evening activities at 6PM. It was a nice and small party - with lots of old friends that i've sent in a while - and of course also with some new faces.
The party ended at 4AM when we closed the doors. We walked home to my parents place where we had a good night or better good morning snack till 5 AM. Today was cleanup day - 11 AM - wow - that was challenging.
The rest of the afternoon was really nice. My brother and I went into his whirlpool - of course with a glass of wheat beer. Now its time to get back to Linz - I need to get some sleep - but before that I will go out to some beergarden to enjoy the last days of summer. Cheers
| | |
| --- | --- |
| | |
| My Dads treasure. He went over the Grossglockner with this old machine | Maximilian and one of the lobster that Stephan sent me |
| | |
| Warschenhofer - the scene of the party | Andi perfectionizing his swing |
| | |
| Klopferlrunde: A funny drinking game | Our local major - he supported our party |
| | |
| Stephan (right) - my neighbour - and his friends | Georg was the lucky man - he always had beautiful girls around him |
| | |
| Some new faces on our party | Helene - working hard behind the bar and also with her cell :-) |
| | |
| The later the hour - the more relaxed the people became | Maybe we should stop selling alcohol :-) |
| | |
| Well - we definitly should stop selling it - look at those scenes :-) | And and Andi - first meeting after his visit in Boston |
| | |
| Thats definitly a good advise | Home sweat home - I will be back in 10 days |
| | |
| 5AM - late night/early morning snack | Was it really a good idea to cleanup at 11 AM?? |
September 8-9th
No pictures for the last two days - but some facts about what I did. So - thursday night I went to do some salsa training to the Pueblo. It was nice - I learned some new moves - but actually - I've already forgotten most of them :-)! After that we went to the Beluga for some more salsa.
Yesterday we had the so called "Wineday" in Linz. Some wine farmers of the austrian regions showed their wines. And I learned something new. They created a new wine - called DAC. Basically its a gruener veltliner. But as the hungarians also produce this kind of wine with a poorer quality, the austrian wine community created this new brand that is called DAC (Districtus Austria Controllatus). So - whenever you see a DAC you know its high quality wine from austria.
Well - i missed to tell who we were. we have been: Doris, Robert, Mario, Claudia, Martin and myself. After the wine tasting we went down to Josef - meeting Martin and two of his german partners. After that I showed Doris the salsa club in Maestro. Doris and I used to dance a lot back in the dance school days. We only stayed short and went on for a final beer to Walkers.
Now its saturday morning. I am heading soon to Gallneukirchen where we have a party going on tonight. Pictures from this event will be published shortly. cu
September 7th
the last two days have been a nice time. not too much stress in the office. Tonight I met my sailing crew from 2004 and we celebrated our cool tour that we had last year. unfortunately - i've been the first who had to go home - i was too tired and had too much alcohol - sorry for that.
here are some pics.
| | |
| --- | --- |
| | |
| Luitpold on my balcony | At Josefs - he is working hard to give beer to everybody |
| | |
| Dinner at Josefs - typical austrian food - at least clemens dish. mine was more american (chicken fingers) | Sailing Crew 2004!!!!! |
| | |
| I am not sure - but Martina seemed to be not too happy!! | Moni and Andi - the sailing trip brought them together |
| | |
| A smile!!!! | Two girls that I just liked. Therefore I took the pictures |
September 4th-5th
Nice Sunday - Salsa Monday
I can tell you - that was nice!!! I was invited for BBQ lunch in Gallneukirchen by Doris&Robert. Nice as I am - I also invited Irene and Martin (aka Resl) to the BBQ (of course I asked Do&Ro before I invited them). So - we started at noon and I thought that I will be home in the late afternoon. But you know - things happen different than you originally thought. I got home at 10 PM and it was a fabulous day. BBQ till 3PM - then a nice through in Gallneukirchen - some beer and wine in the late afternoon - an open fire in the evening with some "Stecklbrot"!!
Today was good as well - of course - it was Salsa Monday!! As there was a holiday in the states - work was not too bad. I could leave office earlier to get a hair cut (I can tell you - it was time for that!!). Got home - relaxed a bit and went to Salsa at 8:30. Now its 1 AM - just got home - it was great! Lots of dancing - lots of sweat!!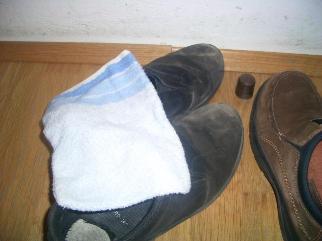 My shoes and sweat kerchief after dancing. If you look close - the shoes are already nearly danced through and my kerchief is soaked!!
September 3rd
Klangwolke - Wine Festival - Remembar
Its been one of the most incredible shows at the Klangwolke that I've ever seen. They performed a story about Austria how it might have happend if Austria would have been divided the same way as Germany was divided after the 2nd World War. The danube in Linz was the "Iron River" Two lovers were separated over the years and reunited after the iron river fell. They made a cool show with airplanes, trucks, diggers, ...
After that we went to the wine festival in the linzer altstadt. I can tell you - austria is really producing good wine!!!
We ended the evening in the Remembar. Here are some pictures:
| | |
| --- | --- |
| | |
| Klangwolke - lots of people - and one of the video walls | They raised a truck in the air - and a guy was performing there |
| | |
| Amazing fireworks in the end | Wine festival - Alois managed it to close the eyes in all 3 attempts we made to take the picture |
| | |
| Kebab - to get some "unterlage" for the wine | Christoph - barkeeper in the remembar |
September 2nd
Chilli - Chilli - and Chilli!!!
Do you know that feeling if you just had eaten far too much? I am far far too much. And now take this situation and imagine that it was Chilli!!!!
Well - yesterday night Mario and I were invited to Didi for dinner. And it was delicious. We had Nachos baked with cheese and our first Luitpold. After that we had one of the best chillis that I have ever had - thanks to Sandra (didis wife) - she is a terrific cook. But we had too much so that we needed some whiskey to help our digestion - or at least to make it feel a bit better. Mario left around 9:30 to go out in town. I stayed longer but was suppossed to meet him there afterwards.
But this feeling of just having too much food in my stomach was far to much - therefore I just made it home and went straight to bed. Sorry for all of you whom I told that I will meet in town. That would be: Martin, Mario, Sandro, Irene, Silke, Martina, Dani, Matthias, Michi, ...
So - I told mario that he can stay at my place - he should just call me and I let him in. The call came at 7 AM in the morning - so I guess he had a good time - now he is sleeping while I am updating my website.
I also had another nice wake up call - Sarah called before she went to bed. Somehow its weired - the time difference in the other direction - but it definitly was a nice surprise.
Right now I am sitting here in my appartment with a cup of coffee - my laptop on the table - watching the rain outside. Hope its getting better for tonight. bye bye
| | |
| --- | --- |
| | |
| First course - Nachos - Salsa - Wheat Beer | Nadine: Chilli and Wheat Beer :-) |
| | |
| Those plates are much larger as they seemed - but it was sooo delicious | The other two kids falling asleep while watching TV |
September 1st
Abpfiff at Brewery Freistadt!!
That was a great day. After work we went up to Freistadt. First - Udo, Lampy and myself went to Lampy's house - jumping a bit on the trampolin and having our first round of beers. After that we went to the Braucommune Freistadt where they had their monthly "Abpfiff". Its two hours for 6 euros where you can drink what you want - and you also get a snack. We had lots of fun.
On our way home to Linz we stopped at my parents house and I found a nice package from abroad - check the pictures!.
After that Udo and I went back to Linz - having a final Luitpold in the Klosterhof.
The weekend supposed to be very nice. Its the weekend of the Klangwolke in Linz - including the wine festival. here are some pictures.
Well - some things about the layout. Sarah suggested to make my page layout smaller to fit her screen. I actually told her to buy a larger one - but actually - as I really like her - I thought I could do her a favor. Therefore I will only have 2 pics side by side from now on. cheers
| | |
| --- | --- |
| | |
| My temporary office place in Linz | Udo on the trampolin |
| | |
| Myself on the trampolin | Lampy on the trampolin |
| | |
| Lampy and Udo enjoying a beer in the sunset | I admit - I had a bad day for parking!! |
| | |
| The first beer at "The Abfiff" | Our snack - Knackwurst with bread and beer |
| | |
| For people that are really thirsty!! | The austrian way of BBQ |
| | |
| Udo trying to enrich Lampy's sausage | Well - always exaggerating - 4 pieces at once!!! |
| | |
| No comment on this!! | Luitpold in the Klosterhof |
| | |
| Udo 007 - with the "borrowed" beer pipe! | A surprise present from the states. |