I've splitted my diary now to individual months - so - the default page will be the diary of the current month. Here are the links to the other entries so far:

July 29th-31th
A Weekend in New York City
What a weekend!! We took the bus on friday from Boston to New York. On friday we already checked out 3 very important sights: Hooters, Times Square and the Empire State Building. Our night was really disturbed by the traffic we had outside. Our Hostel was located on the corner 30th and 8th Ave - near Madison Square Garden - and there was quite some traffic on the avenue with people honking all night long. Well - on saturday we had a big program: Madison Square Garden, Ground Zero, Statue of Liberty, Ellis Island, Chinatown, Little Italy, Grand Central Station, Rockefeller Center, St. Patricks Cathedral and Central Park. As I won a bet with Sandro - he owed me a beer - and therefore we decided to go for one or two beers to the pub on the corner of our hostel. Well - as you may know - if you decide to go for just one or two beers it sometimes turns out different. I have no idea how much we had - but I think I can recall that we entered the bar at 6PM and left around midnight - but I am not really sure. So - the night was not too bad although one of the guys in our room turned of the AC and we all woke up in the morning - bathing in our own sweat as it was like a sauna in there. I left Sandrdo and Peter around 10AM to catch my bus back to Boston. Now I am just waiting for Stephan to come home from the Cape. We are going to have dinner at christophers - I hope he gets home soon as I am already starving.
Check out the pictures below:
| | | |
| --- | --- | --- |
| | | |
| Hooters!!! Its so easy to make boys smile :-) | On Times Square - quite impressive | Manhatten - from the top of the Empire State Building |
| | | |
| On the Empire State Building around 11PM | Sandro looked happy and relifed after "Morning Business" :-) | 3 austrians and the old french lady |
| | | |
| Maybe they offer him the job for standing there - looks pretty authentic | Our saturday night | Peters way of playing dart was a bit uncommon :-) |
July 29th
Ramping up in Boston
We are getting ready for New York. We have a bus ticket on the Chinatown Bus Line at 1PM - leaving from Boston South Station - hopefully to be in New York City around 5. Here are the latest pictures from today!
| | |
| --- | --- |
| | |
| Peter fixing his purse - with string and needle | Relaxing - watching Gilmore Girls |
July 28th
Relaxing day in Boston
The last day in boston before we head to New York City tomorrow. Had a long sleep - nice breakfast at a breakfast place near my appartment. After that we went to Fenway Park (Stadium of the Boston Red Sox Baseball team). Peter bought some cool T-Shirts - unfortunatelly - not all of them fit the way he thought. Then we went on walking (we are pretty good in this discipline right now - had lots of practice the last week). Went to the Movies in the afternoon - Mr. and Mrs. Smith followed by a nice dinner near harvard square. Now we are getting ready for tomorrow - we booked a bus ticket on the chinatown bus line from boston to new york. In new york - we have another youth hostel where we spend the weekend. here are some pics from today.
| | | |
| --- | --- | --- |
| | | |
| Actually from yesterday - the boys at Christophers with some Nachos and Julius Echter | A cool Job Ad in the subway | Peter with his new Red Sox shirt - the sleeves are not really what he expected |
July 22nd-27th
Road-Trip
1300 Miles (2092km) !! That was the final distance of our roadtrip which brought us throug 4 different US states (New York, New Hampshire, Vermont, Massachussets) and 2 canadian states (Ontario, Quebec). We started on friday - 6 AM - with a brugger breakfast heading to Niagara Falls on the american side. Made the "Maid of the Mist" tour - thats a boat that cruises between the two falls (American Falls, Horseshoe Falls). Then we went over to the canadian side of the falls. The canadian side is a big tourist town - hotels - shops - bars - ... - but we just drove throug it. well - after that we went on to Toronto where we had our first night in an hostel in the downtown area. Toronto is a cool city - they used to have the tallest building in the world - the CN Tower. So - on saturday we went up and had a nice view down to the city. We stayed another night in the hostel before we went on to Montreal on sunday. Montreal is a nice french city. It was good that everybody there speaks english as well - otherwise we would have had a tough time. We checked out the Formula One Race Circuit and walked around the downtown area.
The next stop on monday was Burlington in Vermont. Thats a small collegue down on lake Champlain. As we have seen so huge cities the days before - Burlington was not really too impressive - but it was nice as we had a hotel on the waterfront. On tuesday we went on to Windsor, New Hampshire - to Sarahs Summer Camp where we took some canu's and checked out the lake. We stayed over night and headed to Hampton Beach today. Thats a small tourist town on the atlantic coast with nice sand beaches. But as it was too hot today (about 100 degrees - 38 celcius) we only stayed for about 2 hours and headed back to boston where we are currently enjoying the nice air condition of the appartment. Whats still to come? Tomorrow - relaxing day in boston. Friday - bus trip to New York City. Weekend - New York City. Here are some pictures from the trip!
Our start - 6 AM on friday with a Bruggers Breakfast
European city names everywhere
American Niagara Falls
Waiting for the Maid of the Mist tour
Directly under the big Horseshoe Falls
First Hostel Room in Toronto - 8 bed room - but it was nice
In our favorite pub in Toronto - we nearly checked out every street in downtown shown on the plan
First breakfast in Canada - Eggs, Sausages, Potatoes, Pancakes
CN Tower between to other skyscrapers
View from the CN Tower down to Toronto downtown
View down the tower - through a glass floor
We standing on the CN Tower platform
We've seen that in one of the cool condome shops in canada
Rikscha in Toronto - a bit different
We met these two girls that showed us some night life in toronto
A french shower :-)
Montreal - nice cuisine there
Me and my real friends :-) on a street festival in Montreal (similar to the Pflasterspektakel)
Speed limit on the F1 Circuit!!
Peter on the F1 track - in front of the "Champions Wall"
Olympic Stadium - built in the 70s
Relaxing session in the whirlpool after 4 exhausting days of walking in big towns
Tasting beer in a microbrewery in Burlington
We sketched our route - not 100% accurate - but I hope you get the route
102 degrees on our way home
July 20th
Exploring Boston - Day 2!
We continued our boston trip today. Started again with a breakfast at Bruggers - checking out the MIT campus + a brand new MIT Building (check the pictures below). Then we headed to the MIT museum where they had some nice exhibitions about robotics, computers, holograms, mechanics, ...
We went on to Cheers - the famous bar from the sitcom "Cheers". Walking near Boston common - checking out Ally McBeal's Office Building and some nice shops on Newbury streets. We finished our tour with a Boston Harbour trip and a short trip through the North-End. Still to come today: Blue Man Group. Check out the pictures for today. As for the next days - we will start our road trip tomorrow early in the morning - bringing us to Niagra Falls, Toronto, Montreal, Burlington, Montepelier and back to Boston. So - there wont be any updates to probably next wednesday. cu
New MIT Building from some famous architect
A closer shot of that building
one of the classroom - obviously more comfortable than those at home
Peter pretending to be an MIT professor!!
MIT Main Campus
A hologram in the MIT museum - that was quite impressive
64kb of RAM - that was in the early days!
Officer Hooker - this name got a different meaning because of his actions
Ally McBeals office building
Cheers Bar - they rebuilt the sitcome stage
USS Constituation - from the Harbour Cruise Boat
American sizes: Tall, Grande and Venti - there are no small things in this country :-)
Blue Man Group Theatre
Sandro and one of the 3 Blue Man guys
July 20th
Exploring Boston!
We had quite an exhausting day. Getting up early in the morning after some hours of sleep. The two boys got some "real" american breakfast at Bruggers. After that we checked out Harvard and continued to Boston where we managed to book a ticket for the Boston Trolley Tour. The tour brought us to different sites - sites that I've not seen before although I am already here for 6 months - so that was quite interesting for me. So - in a nutshell - what have we seen? Harvard, Quincy Market, Fanueil Hall, Waterfront, USS Constitution, Parts of the North-End, Boston Common Park, Beacon Hill, Theater District, ...
In the evening we went to the movies - Wedding Crashers - Hillarious!!!! Although - we had a bad start again. It seems - everytime when Sandro and Peter are around something is going wrong! They had technical problems with the film machine - so we started about 30-45 minutes late. But the film was worth waiting for it. Check out some pictures - bye:
Breakfast - Coffee, Tea and a Toasted Plain Bagel with Ham & Eggs
At the christmas shop - that was quite amazing!!!!
Street artists - quite a nice show
USS Constituation
Warning sign at another War Ship from World War II
Peter in his "usual position" - 200 pictures so far!!
Me at the christmas shop with the christmas rat
a manly peace of a stearling reel *hrhrhr*
July 19th
Sandro and Peter currently experiencing bad travel conditions. They have been delayed in munich and therefore missed the connection flight. now - they have been waiting over an hour on the gate to get their permit for takeoff. So - originally they should have been here at 7. Now its past 9 and it seems that they are still in Philadelphia. Lets hope the best.
But i also have some exciting news. I "dumped" my current patricia cornwell novel - well - not dumped - lets say I put it on hold - its really not the best book - and I started with Harry Potter. So far - after the first chapter - its been really interesting! So - maybe I can upload some arrival pictures if it gets not too late tonight. cu
| | | |
| --- | --- | --- |
| | | |
| After 3 hours fligh delay we had an additional hour waiting for the luggage | Welcome beer!!! | I tried to americanize Hutti - but he didnt really like it!! |
July 18th
Harry Potter is finally in my hands
Well - not much more to say. As I was out of town on friday midnight to get the book from the bookstore - I got it today! Unfortunatelly I wont be able to start reading right now as I am still reading my current book. Well - some more exciting things are going to happen tomorrow. Sandro and Peter (aka Hutti) are arriving here tomorrow night. I will pick them up at the airport and we will soon start our road trip up to Canada. Will keep you updated on this. bye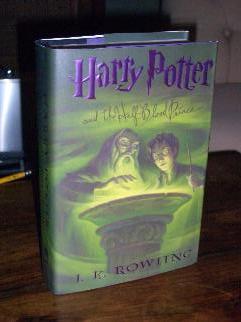 Thats IT!!!!
July 15th-17th
Weekend in New Hampshire
Its been another nice weekend up in New Hampshire. This time I could even help a bit in the summer camp. So - i ran with one group who where practicing for the upcomming Andy Opten race. Hmm - what is that? Well - years back there was a boy in the camp that wanted to have ice cream. But the only place nearby was a shop that was 5.2 miles away. So - he ran to this shop getting the ice. From that time on the summer camp is doing this race named after this boy. So - we ran the 5.2 miles - that was a nice warmup for a soccer game. We had the game Germany vs. Austria. Some germans are amoung the kids there + Christian is a counselor - he is from heidelberg. So - we this match and guess what - the Austrian team won 3:2 - yahooo!! Historical event!!
We also went for a nice birthday party and today - sunday - we had international day where Natalie (father is from Vienna) asked me to help her representing austria. So - we told the kids facts about austria and tried to teach them some Waltz dancing.
On my way home I had a new experience. There was a Nascar race going on on the weekend up somewhere in New Hampshire - and right at the time when I headed down to Boston - everybody from the race seemed to do the same. So - I was in really heavy traffic tonight. Here are some picutres:
| | | |
| --- | --- | --- |
| | | |
| Christian was happy about some German Wheat Beer | Morning Meeting in the Camp - the guy: Greg from Australia | Oldest American Brewery |
| | | |
| BBQ at the birthday party | The house where we had the party - its been amazing - huge place | Can you believe this - wine from the weinviertel |
| | | |
| Playing charade | At the camp - flags from most of the countries that are represented by the kids | Nascar truck passing me by on my way home |
July 14th
Red Sox vs. Yankees
Well - it was interesting - watching this game at Fenway Park. But to be honest - I have not really been as excited as the real Red Sox fans. Basically those events are all about hot dogs, pizza, peanuts, soda and beer - and off course for a high price. A Sam Adams costs 6.75 for instance. So - Klaus and I went there and enjoyed the atmosphere. Here are some impressions
| | | |
| --- | --- | --- |
| | | |
| Well - thats something else. That was my commission paid by on of our consultants as I helped him at a customer | Our game tickets | In front of Fenway Park |
| | | |
| Yummie - high priced Hot Dog!! | The way Red Sox fans think about this sport | In the stadium |
| | | |
| The - well - kind of exciting game | A better view of the game field | Advertising is everything |
July 13th
More USA to come for me!!
I spread out the message today to most of my friends about my plans after I go back to Austria. Well - the big story is that I wont be home in Austria for long. My company offered me to go back end of September and stay here most of the time till end of 2006 - with some visits home. So - for those of you who did not have the chance to visit me till now (especially for those that I had to decline) there is a new opportunity now.
As for todays business - Reinhard and Florian had their last day here in the office giving their training. Klaus stays here till friday and tonight we went out for some shopping (havent found what we were looking for) and ended at Christophers. Here are some pics from today!
| | |
| --- | --- |
| | |
| I was sad when the two left (well - I just pretended to be sad :-) ) | Flo working in my cube - I guess he also just pretended to have fun |
| | |
| Harvard Square at night | Another austrian that could taste christophers cuisine |
July 12th
Yo there - its tuesday night and its been a nice week so far - and more better things are to come. Today we went out for some dinner with some segue guys. Tomorrow - Klaus (he arrived yesterday) and I will go for some shopping and hopefully some beers in cambridge. And here comes the really cool story. We've been given tickets for the Red Sox - Yankees game on Thursday. Well - I guess that nobody at home (Austria) is very excited now. But here its a really big deal. Its baseball and everybody is really crazy about the Red Sox here - and its getting even crazier when they play the Yankees from New York. As a Bostonian (which I become more and more) I've already picked up some of the baseball excitment (well - I at least know the basic rules). But I am looking forwards to that event.
Yes - and of course - its only 3 days to go till the new Harry Potter book is published. I've already purchased it at my local bookstore and they are opening at midnight on the 15th. So - I might go there and check out the scene. They also suppossed to have a big Harry Potter thing going on in Harvard - just before the start selling the book. thats it - good night
July 11th
Its been a nice and interesting day. The most interesting thing happened to me in the afternoon. I left office early in order to do some soccer. But - it was just too hot at around 4PM. So I decided to hang out in one of the gardens near the Charles - reading a book in the sun. At 5:30PM I decided to look for soccer places. As I got up I was approached by a guy asking me for the way to his hotel in Boston. We started talking and it turned out that he is Isreali - having his own software company doing educational software. Well - in the end we spent about an hour in a nearby pub talking about god and the world. And thats the interesting thing about that - I guess it would not have happened at home - it happened because two strangers coincidently met in a foreign country. Well - it tought me that we really need to be open to anybody and everything - you never know what you can experience.
Well - what else happened. At around 8PM - Florian and Reinhard came to my appartment - we went to Pizzeria Uno - the only place near porter square where you can sit outside and have some beer. Its been a nice night - really warm. On our way home to my car we went into the supermarket and then I just checked to my liquor store - checking if they have received Julius Echter yet. And - surprise surprise - they got it. Two cases of black and light!! So - I am all set now for the next days!! Thats it - good night
July 8th-10th
What a cool weekend!!
Went to Provincetown on friday night - taking the Fast Ferry from Boston. Really cool thing - 90 minutes compared to a 3-6 hours car ride (depending on traffic). Very modern - with TV's and a Bar on the boat.
So - arrived there friday night - Stephan picked me up - and we went for a nice dinner at Adrian's. On Saturday we had our big fishing tour. Starting with a nice breakfast (Bloody Mary, Sausages, ...) - going on to the Harbour for our 4 hours boat trip. The weather just turned fine for us!! After the boat-trip we took the fish that we caught and had a really delicious meal!!
Today - after a long sleep we had breakfast at Stephans house - walking through Province Town after that before I went back to boston on the 11AM ferry. Right now I am waiting for Florian and Reinhard (Jeid) comming to my appartment. cu later
--- update ---
Met with Reinhard and Florian. Had a nice beertschi in my appartment - then went to Christophers for some Nachos. Our evening activity was to watch the "War of the Worlds". The new movie with Tom Cruise. My opinion: not very exciting!! Well - its time to go to bed - but before that I finish Harry Potter. They currently show the first movie on TV. good night
Fishermans Breakfast: Sausage, potatoes, eggs and a Bloody Mary
The Fyling Mist - our chartered boat
Throwing out the fish remnants of the previous trip that they made
Jigging to attrackt the fish
Bloody luck - I caught my first fish
And here he is - tasted good at night
To be honest - we did not only catch fish!!
Chill-Out with a Hocus Pocus Wheatbeer
And Stephan with a Corona
One of our big catches that day
They had some cool signs on their way points towards the harbor
Getting rid of the skin - I am not sure - but it seems he already had some some beers
We changed the gas grill into a coal grill
Grilling some corn and after that the fish
Breakfast today in the morning - fruites and coffee with some coconut rum
Provincetown - with the Monument and City Tower
On our way to boston - planes headed over the ferry
Nice view to Boston from the atlantic side
Jeid and Flo enjoying their first plate of Christophers Nachos and Julius Echter Beer
3 Austrians on the T
July 7th
Not much to say about today. I left office at 3PM as i was so tired from the last days travelling - i think i only got like 8 hours of sleep in the past two days and therefore i headed back earlier - taking a nap in the afternoon. Of course - because of the attacks in london - everything here is rotating around this event. Security has been tightened and everybody should be in alert. I personally think that they are again overreacting - every citizen should look for suspicious behavior and report it - so I guess we will see lots of unnecessary police activities over the next weeks. But anyway - its not nice what happened there.
Back to my story - had a nice nap in the afternoon - then I did the laundry - went to christophers for dinner and now I am headin to Ryles for some dacing.
I will go to the Cape tomorrow - by ferry - if the weather allows. Stephan and myself are doing some fishing on the atlantic on saturday. And on sunday - ole ole - two collegues from Austria are coming to town and we will hang out. Cheers
July 6th
Texas an back to Boston
Texas was really hot and humid - but fortunatelly - I only experienced the hot weather between the hotel and the car - and the car and the airport :-). Just came home to Boston - its 1 AM now and I am sitting here with my Weihenstephaner - waiting to be finished and then I head to bed. Hope that I dont need to fly around any more before my flight home in August - its just not fun anymore when you do it so often and when you spend so much time waiting! good night
July 5th
Up to Texas
Just a quick update. Still in office - but I will soon go to the airport - heading to Houston, Texas again. But just for a day. So - it will again be a airport - hotel - customer - airport day!!! Greetings - andi
--- update ---
Damn air travelling. 1 hour delay in boston - so - I arrived here in the hotel at midnight. Its hot and humid here - but I might get a cold with all those air conditions :-). Good Night!
July 4th
Indepencene Day!!
Today was independence day and Boston celebrated it with a big firework on the Charles as well as some live music from the Boston Symphonia Orchester. I relaxed most of the day - lying in the sun - getting some sunburn. After that I rode my bike down to the Charles where at 4PM - 200000 people were already there waiting for the evening event. Some of those have already been there till the early morning in order to get the best seats. My evening program was really cool - a Salsa Boat Cruise. 2 hours of dancing - finished with the fireworks (although the view was not really perfect). The most proplematic thing today was the way home. As you can imagine - everybody wanted to get home - so the subway was totally overloaded. It took me more than an hour to get to Harvard where I finally got out and walked the rest home. It was just too much waiting for me in the tunnels. Here are some pictures from today
| | | |
| --- | --- | --- |
| | | |
| People near the Charles - waiting for the evening event | The boston esplenada | The charles filled with boats and the people on the shore |
| | | |
| Salsa lessons on the dock before we got on the boat | That was our cruise boat - two levels - one with salsa - the other with merengue | An aircraft carrier in the harbor of boston |
| | | |
| Boston at night | Some salsa | People on the boat watching the firework |
July 2nd-3rd
That was a very great weekend so far - and it is not over yet - tomorrow is Independence Day - so - its a free day. And I booked a ticket for a Salsa Boat at night - doing some dancing and watching the fireworks at night.
But - this weekend was really great. On Friday I went out with Jeremy - checking out some new bars near Central Square. Then we met his friend Melissa. They invited me for some BBQ today. Well - at friday I ended up at the Havanna Club till 2 AM - its been nice. Yesterday I went up to New Hampshire. To the summer camp. The craziest event that I ever went to happend there yesterday night. I guy - he is 93 years old - was celebrating his first funeral aniversary. The idea behind that is that he wants to celebrate as long as he is alive. The whole town was invited. They had a big place with a big party tent - music - food and drinks. And the guy - the 93 year old had a nice T-Shirt with the sentence "I've never felt better in my life&quot at the back.
Today - a bit of canuing - summer camp morning meeting - after that a quick jump in the lake - and then I drove down to Boston. With a new record time - 1 hour 40 minutes!!
Had the BBQ in the afternoon and now I am deciding whehter to go out for some salsa or just go to bed as I am really tired. WEll - here are some pictures!!
| | | |
| --- | --- | --- |
| | | |
| Bad traffic on the 2nd. Holiday weekends are always bad to drive!! | Cool car - one of the party guests at "The funeral" had this hot car | Sarah and myself at the funeral party |
| | | |
| A real Hillsborough Police Guy posed for a picture. | Yeah - Canuing fun!!!!! | I guess I have some pictures of this part of the lake back in april - totally different view!! |
| | | |
| This is just beautiful. Its on the waterfront of the summer camp | Jeremy and (sorry - forgot the name) preparing food for the BBQ | Real nice BBQ with people from all over the world |
| | | |
| The master of the meat | Tyüical american BBQ dish - a big big burger!! | The hard core - we stayed till the end!! |
July 1st
Holiday Weekend!!
Finally - another long weekend. I hope to provide you with some pictures. My plans are to go out with Jeremy tonight - going up to New Hampshire tomorrow - and doing a cool Salsa Boat Cruise on Monday - 4th of July - watching the FireWorks.
Some interesting facts about the car that I drive now - so - about Sarahs Car. Its a Subaru and therefore a "very economic" car. Well - maybe economic for american standards. But - yesterday it was the first time I went to the gas station and tracking my milage. So - I drove 350 miles and i tanked 13.2 gallons of gas. So - thats 560 km with 50 liters - making it around 8.8l/100 km. So - not really economic from a european standpoint. But - 50 liters of gas for $30 (€ 25) is really cheap - although everybody here is complaining about gas prices. So - nothing more to say for today - bye