I've splitted my diary now to individual months - so - the default page will be the diary of the current month. Here are the links to the other entries so far:

October 31st
US Trip - In San Franciscso
So - what happened today? We wanted to do the Alcatraz Tour today - but unfortunatelly they do some remodelling on the island - so we have to wait till tomorrow - first tour at 9:30 AM. So we checked out the City by walking around the Fishermans Wharf, taking the train through the city and finally hoping on the historical cable car for a ride.
After that we decided to do some more exploration by car: up to the Coit Tower, to the Palace of Fine Arts, Golden Gate Bridge and to the Pacific Side of the City.
Now its evening and probably the kids already start their "trick and treating". There is actually a big party going on in SF - called "Castro" because it takes part in that part of town. Because of security issues of the prev. years the city wants the party to be much smaller - more security forces and so on - therefore we decided to not check that scene out but rather go back to the bar from yesterday - where dad found a guy that he can speak german with.
Thats it - so - the plan for tomorrow: Alcatraz, Car Return, Airport - Flight to New York City - cheers
| | |
| --- | --- |
| | |
| On the Fishermans Wharf - one of the many sea food places | The grabner boys with Alcatraz in the back |
| | |
| The historic cable cars - they actually turn it around on the platform at the end of the track | My Dad having fun with the ride |
| | |
| Me to | Look towards downtown SF from Coit Tower |
| | |
| The grabner boys at the Golden Gate | The pacific coast line in SF |
October 30th - 2nd Entry
US Trip - In San Franciscso
So - we safely arrived in San Francisco. The Hotel is very close to the Fishermans Wharf - that means - somewhere between the Golden Gate and the Pier to take off for the Alcatraz Tour - thats what we want to do tomorrow.
Kieran took us out tonight - we went to a great bar with good food and they actually had Weihenstephaner Beer. After that we walked towards our hotel and stopped in a very small bar - fortunatelly - the bar owner spoke german - so my Dad could convince him that Arnold is a real good man :-)
Plan for tomorrow: Alacatraz Tour - Golden Gate - Union Square - ...
cheers
| | |
| --- | --- |
| | |
| Kieran, my Dad and me | My Dad with the Bar Owner |
October 30th
US Trip - Sacramento - Farming Land - San Francisco
Just a quick one as we have to leave for dinner - Kieran (a colleague of mine) is picking us up.
Finally we found some great stuff for my dad - check the pics with the old tractors below.
| | |
| --- | --- |
| | |
| Dad using latest technology - skype to call home | In front of Arnolds Office |
| | |
| In Old Town Sacramento | Dad with two new friends :-) |
October 29th - 2nd Entry
US Trip - Brewing Company
Just a quick update before I go to bed. We have been out tonight - and the first place we found was a brewing company. As you can see from the pics below we actually met the brew master and he gave use a tour. cheers
| | |
| --- | --- |
| | |
| Dad with the Brewmaster - examing the hops | The different beers on tap |
| | |
| Jummy - they also had goot food - BIG BIG Burgers | More from the brewery tour |
October 29th
US Trip - Oakland - Sacramento
Today was a day with different new experiences. First: In the morning we went to Chinatown in Oakland to have a breakfast in a chinese breakfast place (we were the only non chinese customers in there) - a new experience for my dad!!
Second: Football game - just amazing - and not just the game. Seems that there are 2 sorts of visitors. Those that visit with their family and spend a nice afternoon there. The second group is a group that starts early in the morning - park there car in the parking lot at the stadium and "tailgate". Tailgate means that they open the tailgate of their truck - and start a BBQ. The second group is definitly in the majority as you can see in the pics below. The interesting thing about the second group is that by game start (1:15PM) - most of them are drunken and have a very interesting way to cheer for their team :-)
The game itself and the stadium was just amazing - with a capacity of 63000 people the stadium is breathtaking (if you compare it to the stadiums that we have at home). And the game is much more intersting live rather than watching it on TV - I think I finally got the rules and kind of get where the fascination comes from.
We left the game after the half time show. We took I-880 south along the San Francisco Bay - then over the San Mateo Bridge (the bridge is about 7 miles long) to cross over the Bay. Then up north on Route 101 through San Francisco and over the Golden Gate Bridge. Keeping north we finally ended in Sacramento - the captial of California and the home of Arnold. Well - maybe we have a chance to see him tomorrow - would be fun.
Now - as every night after a long drive - its time for food and drinks. Tomorrow: Checking out Sacramento. then we may go up to the Sierra Nevadas or we go back to San Francisco - not decided yet. cheers
| | |
| --- | --- |
| | |
| In front of the McAfee Coloseum - the home stadion of the Oakland Raiders | People "Tailgating" - my dad would have liked something from the grill |
| | |
| Warm Up: Stretching | Very close to a touch down |
| | |
| Half Time Show | The stadion from a different angle |
| | |
| San Mateo Bridge towards San Mateo | Back to the Oakland Side |
October 28th
US Trip - Los Angeles to Oakland
Today we had to go a very long distance - about 350 miles from LA to Oakland. We started on the well known Route 101 along the pacific shore line. After a while we drove land inwards - towards I-5 that brought us up to Oakland. On our trip we saw how americas food is produced. There is a strip of land - several hundred miles long - several miles broad - stretching from south california up to Oregon - Stephan told me that it is called the "Salad Bowl" of the US - 25 percent of the agricultural output is produced there - in a very industrial way as you can imagine. There are some pics below.
We arrived in Oakland at around 6:30PM. After a couple of rounds through the streets we finally found a hotel in downtown - the Marriot - very nice. And now - its time to get out - having some food and some drinks.
Oh yeah - before I forget - we got our first ticket :-) - not for speeding - but we parked in wrong direction - therefore we got a $35 ticket. cheers
| | |
| --- | --- |
| | |
| South of LA - looking at Malibu Beach - along Route 101 | Very interesting house number: 29057 - we saw the numbers climb over 30000 |
| | |
| Industrialized way to grow vegetables | Dad - looking at the US agricultural work - maybe he got some hints for his own work |
| | |
| On Route 101 | Beef Farm - thousands of cows waiting to become a burger :-) |
| | |
| Aqueduct: they get the water over hundreds of miles into the areas where the grow the food | Arriving in Oakland at Sunset |
October 27th
US Trip - Los Angeles
First an update to yesterday night - its been pretty hard to find a place in San Bernadino to get a drink. But in the end we found a place where they had a Country Dancing Evening - really interesting to see that kind of dance.
In the morning we drove into Los Angeles - that was a 50 miles drive - with our hotel as the final destination - and again - without any direction problems (well - we have to ignore those honking cars when we crossed several lanes at once when we figured out we are on the wrong side to get to the exit).
Los Angeles is a huge city - we've been told that the whole Los Angeles area (based on the map i would say its about a 30 times 30 miles area) hosts about 15 million people!!!
We took the car and drove through the different districts like Hollywood, Beverly Hills, Santa Monica, ... - we also made it on Mulholland Drive that gave us a great view down to LA and also to the big Hollywood Billboard.
In Hollywood - on Hollywood Boulevard - we checked out the Walk of Fame and the Kodak Theatre. In the Theatre we had a great meal at a Wolfgang Puck restaurant - great salad with goat cheese and of course - some beers from the tab. Then we drove on most of the Sunset Boulevard and then down the Santa Monica Boulevard to the Santa Monica Beach. We continued to Venice Beach and then back to Downtown - to our hotel.
The plan for tomorrow: Heading Northwards towards Arnold :-)
Now its time to get ready to go out at night - cheers
| | |
| --- | --- |
| | |
| Not a great shot - but - it shows the Country Dance Event | Dad parking the car on Ocean Drive in Santa Monica |
| | |
| Driving into LA - multiple layers of road in this city - amazing! | One of our destinations |
| | |
| From Mulholland Drive down to LA | We two with the Hollywood Billboard in the background |
| | |
| Dad and Charlie in front of the Kodak Theatre | The Kodak Theatre |
| | |
| Santa Monica Beach | Enjoying the Pacific Ocean |
October 26th
US Trip - Las Vegas to San Bernadino
Finally - 5 hours of sleep in one piece!! Seems that staying up late (I think it was about 2 oclock when we got into bed) - helps the body to get rid of the jetlag - at least we slept till 7 AM - yahoo!!
After we passed the road work we checked out a so called "Ghost Town". Well - it might have been a ghost town once but now its a big tourist attraction - but - still interesting. After that we realized that the historical Route 66 is just parallel to I-15. So we took a 40 miles ride along that road. The road is as impressive as it is devastating. Once the road was full of road-side bars, shops, hotels, ... - now - as nobody really uses this road any longer - there is nothing but old or torn down houses. But again - it was also faszinating to see my dad drive on that road very passionated.
The end of todays tour was a stop in San Bernadino. This city is 50 miles outside of Los Angeles where we will be tomorrow. Now its time for a beer - lets hope we find a place in the area. cheers
| | |
| --- | --- |
| | |
| Hotel Bars in a Las Vegas Hotel have a game machine at every chair | Oh yeah - nearly forgot to mention that - of course - this is another side of Sin City |
| | |
| Hotel New York, New York - with a roller coaster around it | 8AM - people already or still playing |
| | |
| Another day - another bar. Dad with his new beer favorite | My dad in front of the New York, New York hotel |
| | |
| How to open a Corona while waiting in the traffic jam and without any other tool than the car key | The Historical Route 66 |
October 25th
US Trip - From Grand Canyon to Las Vegas
Oh what a day!! We started at 6 AM by driving to the Grand Canyon - watching the sunrise over a heavy clouded canyon. We hoped the best for our 9:30 AM helicopter flight that was postponed from the day before to 9:30AM. After breakfast and check-out at the hotel we went to the helicopter airport. It turned out that the weather was not as good as everybody predicted. Each hour they let us know that it is probably going to happen in the next hour. Finally - at noon - we hopped on our flight and had a fantastic flight over the canyon - breathtaking (much better than my pictures!!). After that flight we had to make progress in our journey to Nevada. The max. allowed speed on arizona highways is 75 - well - I took it as an average value and so we safely and quickly arrived at the Hoover Dam that splits the two states Arizona and Nevada with the hydro power plant that was built back in the 1930s.
After a quick visit we drove to Las Vegas - found the hotel without any problems - and then checked out the Las Vegas Boulevard - again - breathtaking. If I need to describe Las Vegas in one sentence: You do not need a flash when you take a picture at night:-). We walked on the so called "Strip" and checked out hotels like Belagio, Ceasars Palace, Paris, Venetia and many more. At the Paris we went up the Eiffel Tower to get a real good glance from "Sin City". On our way back we checked out some bars and now its finally time to go to bed. Tomorrow should be rather relaxed. The plan is to stay in LV for a little while and then drive towards Los Angeles - finding a place to sleep somewhere between LV and LA. cheers
P.S.: We finally found a beer that my dad likes - unfortunatelly it is Budweiser :-(
| | |
| --- | --- |
| | |
| Sunrise over the Grand Canyon | On our way for the helicopter tour |
| | |
| Taken from the helicopter | On our way to Las Vegas |
| | |
| The Hoover Dam | The Grabner Boys at the hoover dam |
| | |
| The hotel scene in LV with the Eiffel Tower of Hotel Paris | From the top of the Eiffel Tower |
October 24th
US Trip - From Phoenix to the Grand Canyon
So - today we had a nice trip from Phoenix up to Grand Canyon via Flagstaff (where we had a stop at a coffee shop as you can see below). At around noon we arrived at the Grand Canyon Airport where we had a scheduled helicopter flight at 3PM. As the weather wasnt really good (it started raining and the forecast was even worse) we tried to get an earlier flight - but no chance. So we drove to the Canyon first and got a first climps - JUST BREATHTAKING!!!! At 2PM we got back to the airport and have been told that because of the weather the helicopter flights will be delayed and probably wont happen at all today. Our original plan was to drive towards Las Vegas today - but as we desperately wanted to have the helicopter flight and as the weather supposed to be better tomorrow - we accepted to take the first flight tomorrow morning - 9:30. After this little drawback we decided to check out the hotel situation and found one that actually has a Spa (well - its a whirl pool where the jets dont work - but it was good for some relax time). As we still had time before the daylight faded we decided to drive along the canyon and got some nice shots with deep hanging clouds.
Thats it for today. Tomorrows plan - a little bit changed - looks like this: sunrise over the grand canyon, grand canyon helicopter tour, drive to hoover dam, drive to las vegas. cheers
| | |
| --- | --- |
| | |
| They had free WiFi in the caffee - so we called home via skype - cool - huh? | Our current rental - a chevy |
| | |
| The first glimps of the canyon - 13km from the south to the north rim | The Grabner boys at the south rim |
| | |
| The Grabner boys taking a break :-) | The weather situation didnt allow the helicopters to start but its definitly a great view |
October 23rd - 2nd Entry
US Trip - Trip to Phoenix
We had a good trip to phoenix. At the boston logan airport bar we met a couple from seattle, washington. Andrew fortunatelly spoke german - so my dad started a conversation about us energie policies (one of the many discussions that we already had and I guess will have in the next 2 weeks :-) ).
We arrived on-time in Phoenix - got our Chevrolet rental car - drove to the hotel and went to a bar just close by the hotel for a couple of drinks.
Tomorrow we have to head out pretty early for the Grand Canyon. It will be a 4 hour trip up to the place where we start the helicopter tour. After that we start driving towards Las Vegas - yeah!!!! Here are some pics from today
| | |
| --- | --- |
| | |
| Andrew and Abigail from Seattle | The Grabner boys in Logan Airport |
| | |
| The Grabner boys in Phoenix | Our hotel room - very spacy |
October 23rd
US Trip - Northshore in Boston
Today we took the car up the north shore. We stopped at several places - see the pics below. Now we are here in the appartment - having a final beer with Stephan and then we head out to the aiport - flight is at 6:25 PM. cheers
| | |
| --- | --- |
| | |
| Mr. Grabner with our SUV Rental Car | Typical house decortion these days - halloween is on the doorstep |
| | |
| On the beach in Revere | Walking through the city of Marblehead |
October 22nd
US Trip - Whale Watch and Boston
What a fabulous day!! We again got up pretty early - still dealing with the jetlag. Wolfram took the car yesterday night to drive back to the hotel and he was supposed to come back to Cambridge around 8:15. In the meantime - my dad and I watched some football - to prepare for the oakland raiders game next sunday. So - our group of 3 austrians went into town by subway - straight to the whale watch tour which turned out to be a very unique experience. The boat took us out to the atlantic ocean - to a common feeding place of the whales - and we saw a lot of them. We've also been told interesting stories about the whales - about their journey from the north atlantic in summer down to the caribbean in winter. After the whale watch Stephan joined us and we hiked through the city towards his place in south boston. After that we had a quick stop in Harvard and then our ways parted: Wolfram went to the airport to catch his flight back to Austria. My dad went to bed - he didnt feel well - seems that lack of sleep, the activities of the last days and the sunny but cold weather made him feel a bit ill. But we got him a pill cocktail to get him back to normal for tomorrow. Well - and I drove to Hudson where I met Sabine, Jason and Nico - I had to deliver birthday presents for Nico from their austrian relatives.
Now I am sitting here with stephan, watching the second game in the first round of the baseball playoffs - detroit vs. st. luise.
Whats the plan for tomorrow? It will be an easy day in Boston till about 3 pm. then we drive to the airport - drop off the rental car and get on the plane to phoenix where we can enjoy a much warmer climate - about 25-30 :-). cheers
| | |
| --- | --- |
| | |
| The Grabner Boys in front of our whale watch tour boat | On the way out to the feeding place we had beer and pretzels |
| | |
| 2 whales | a group of whales |
| | |
| and one more | Boston Skyline on our way back |
October 20th-21st
US Trip (Around Boston and New Hampshire)
Here is a quick summary of the activities of the last two days. On friday we got up at 4 o'clock - well - then we got back to sleep till 6 am. Then I got my dad the first american breakfast at Bruggers Baggels - coffee and bagels. After that we went to the office as I had several meetings there. We met Wolfram (a colleague from the linz office). He also had stuff to do in the Boston Office. During the day - between the meetings - either Wolfram and I took my dad out for a drive - with our cool Toyota Highlander rental - brand new - only 1500 miles. At night we went to Christohpers - yeah - nachos and beer. Today (saturday) we had a day trip to new hampshire - to sarahs camp. 90 miles up - canoing on the lake - walk throught the forst - lunch and a birthday celebration (its sarahs birthday tomorrow). On our way back to boston we stopped in several shopping malls to get shoes and other clothes for Wolframs kids - they gave him a long wish-list :-)
At night - christohpers again. Wolfram left his cell phone the night before and fortunatelly it was found and we got it back. Well - thats it for now. Tomorrow will be another big day - whale watch - watching the formula one race somewhere in the north end - checking out boston - and then at night - visiting some old friends. cheers
| | |
| --- | --- |
| | |
| Breakfast at Bruggers Baggels | US Engineering :-) |
| | |
| My Dad - eternalising his name in our office | Father and Son - same food preference :-) |
| | |
| Wolfram (aka hubbo) also enjoyed christophers nachos | Preparations for the canoe trip |
| | |
| On the lake | Sarah and my dad dozing away on their porch |
| | |
| hubbo and my dad enjoying the late october sun | Another american food experience - a real burger |
October 19th
Trip to US
Just a quick update before I finally get to bed. I've been up for 24 hours now and its time to go - but before that I want to update the site with the latest pictures from the last night in Linz, the travel to boston and the first night there. Here they are:
| | |
| --- | --- |
| | |
| Alex with her desert in the new restaurant on hauptplatz | Alex and his girlfriend |
| | |
| The Grabner family on Linz airport | Maximilian |
| | |
| On the gangway in frankfurt | My dad - a bit tired already - and soo much work ahead :-) |
October 18th
Last Meeting before USA!!
Its only 1 more day - then my dad and I start our great journey. My dad always liked to travel - however - he is also always a little bit afraid of traveling too far - especially when traveling by plane or traveling to places where he doesnt speak the language. So - the US fits both of his fears - but - fortunatelly - I could lower his fears by telling him what great things we are going to see. Like yesterday: I visited my parents for a final meeting. We discussed all our stops with two additional things that my dad definitly liked:
a) we are going to visit a farm in california (as he has been a farmer his whole life long he is interested in how things are done in the US farm business)
b) as we added the niagara falls at the end of the trip we had to trim the new york trip down to one day. So - what to do in new york city in only one day? Yeah - helicopter tour over manhattan!!
The next cool thing was that I brought my laptop with google earth installed. I showed him most of our stops like the hoover dam, san francisco, ...
And - the next good news - my father learned how to order a beer in english - and how to say thank you :-)
Thats it - guess its the last entry before we take off tomorrow afternoon. But - as I bring my laptop to the states I hope to have the chance to upload pictures from time to time. cheers
October 14th
Soccer in Salzburg!!
One game each season we drive down to Salzburg to watch a game. This time Alex was supposed to join us - but unfortunatelly she didnt feel to well - so it was up to Didi, Andi, Lampi and me. It was a good trip and a very good game - and a fun ride home.
| | |
| --- | --- |
| | |
| From friday: the kids posing in front of the new digger that my brother bought for his company | Pre-Game warmup |
| | |
| We had great seats - very close to the field | Some soccer action |
| | |
| A drink on our way home | Lampi and Andi in the back-seat |
October 13th
Friday the 13th!!
I dont care about that date - there is nothing to worry about - and I hope you see it the same way. I finally have some more pictures to present. One is actually from last weekend when Alex and I finally opened the Caipirinha season in my appartment - a little late in the year - but at least we didnt totally forget about it.
Yesterday night Udo and I went out to dinner. We went to Papa Joes for some ribs. The food was declicous - but the portion was just too small for my hunger - so I had to order additional side dishes after I finished the main meal. After all that food and 3 Grieskirchner Weizen we went to my place where we finished the last Koenig Ludwig Dunkel that I got from Sandro two weeks ago. Here are the pics
| | |
| --- | --- |
| | |
| Alex fixing a Caipirinha | YUMMIE - sweet corn |
| | |
| Our non-smoker Udo | Our Koenig Ludwig Dunkel |
October 10th
New Office!!
I have to say that I love my new office - not because its new or because of the layout - but I like working here because less unnecessary interruption. Seems that the additional 50 meters that somebody would need to walk over from the old office is too far - therfore they just send emails and I can decide whehter to look at it right away or wait till I have time for it. Thats it for the update from work - now lets talk about private stuff. Yesterday was salsa night again - unfortunatelly without Alex - she felt a rising health problem and therefore decided to stay in bed. Today I am going to meet with Christian - he was supposed to start working with my company as well - but it turned out different - I guess we have lots to talk about. Also - his sister still lives near Boston and I might offer a "delivery service" - bringing some stuff from christians family to the states.
And now - before it gets boring because I just dont know what to write about - I stop it right here - cheers
October 8th
US Trip with my Dad!!
Today my dad and I had our final meeting about the detailed route for our US Road Trip - and we had a final change. He desperatly wants to see the Niagara Falls - so we skipped one day in New York and make a one day trip up to Buffalo and the Niagara Falls. Here is an overview of what we are going to to:


Our detailed plan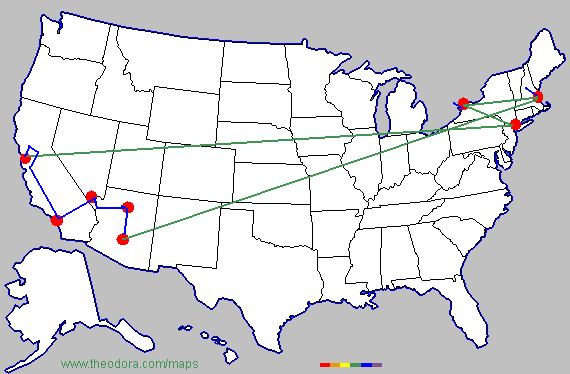 Green is done by plane, blue by car
October 6th
New Office!!
Yeah - we finally moved to the new office. As my team was growing more and more - we could no longer fit in the office rooms in our current office building. Therefore we rented an additional room to fit up to 8 people. The room has been nicely adapted and so we moved in at 9 AM. The first party was at 12:30 because two of my team members had birthday and provided cake. The second party was at 4PM where Didi came over with a nice present (check the pic below).
At night we went to Martin and Sonja. She is going to travel to Australia and will stay there for 3 months. So we had a small farewell gathering yesterday. cheers
| | |
| --- | --- |
| | |
| Farewell to my old office | HELLO to my new office |
| | |
| Didi with presents - guess which one i liked more :-) | Sonjo showed us her medical skills :-) |
October 5th
Apfiff in Freistadt!!
Its been a while since I've been to the last Apfiff in the Brewery of Freistadt. Yesterday we ordered two buses to bring us (16 borland employees) to the brewery. We had guests from the US this week and they also joined us at this event. Below are some pictures.
Besides the beer-event I can just tell you that its been a busy week. Today - friday - we (my new team here at work) are going to move into the new office room. As we can no longer fit in our existing office rooms we bought another room in the same business complex - guess we will have a small party today - cheers
| | |
| --- | --- |
| | |
| Alex, Sebastian and Richard | The US Boys and Alex at the Brewery |
| | |
| Lampy (aka The Icon Man) :-) | After the beer event we went to the irish pub in Linz |
October 1st
Air Cast!
Oh how nice it is to walk again :-) - After a week with a normal cast I got a new air cast. The doctor said I have to wear it for at least 5 weeks - well - we will see. Tonight I am going check out how it is to dance some salsa with my new leg decoration.
Cheers
| | |
| --- | --- |
| | |
| Thomas decided to use blue | Sandro picked red |