I've splitted my diary now to individual months - so - the default page will be the diary of the current month. Here are the links to the other entries so far:

February 27th
Birthday celebrations in greek restaurant
Just came home from a very nice evening in a greek restaurant. We had two birthday's to celebrate. Lissy and Sonja turned 61 (if you combine their age). THANKS FOR THE INVITATION!!
Other than that I have to say that the past two days have really been "enlightening". I am talking about work-related stuff here - looking forward to tomorrow - which will be the final day of our workshop.
Just a brief outlook to the upcoming events:
* Friday night: Going to the new Tapas-Bar with some friends
* Saturday: Company-Skiing day
Thats it - bye bye
| | |
| --- | --- |
| | |
| The two birthday girls | Ouzo!! |
February 25th
A poll
Dear Diary Reader :-)
Thanks to one of my friends (Juergen) I have recently been exposed to DOODLE. In order to get a better understanding of my "audience" I would like to ask you to follow the following link: Andi's Poll. In case the poll doesnt give you your desired answer - just drop me an email.
Well - back to normal business - what happened in my very recent life? Yesterday I really made it up to the GIS. Its been the warmest day in Austria this year. Starting from my appartment - biking up took me 1 hour and 5 minutes - thats definitely improvable. Nevertheless I rewarded myself with a good wheat beer on top of the hill.
Now its monday night again - heading to remembar in 10 minutes. No new pictures today - cheers
February 23rd
Salsa in Gallneukirchen
Amazing - for such a small town like Gallneukirchen the Salsa Scene (at least tonight) - is exceptionally good. There were two events in parallel - the one in Hoppala - the other in Vernisage. We started in Hoppala - till about 1AM. Then - Lisa joined me to check out the event in Vernisage where we danced till 2:30.
Now I am sitting at home - with a nice wheat beer - updating my webpage so that you can see the pictures from tonight. ORF1 shows Starsky and Hutch - I love that movie with Ben Stiller and Owen Wilson. Well - because its rather late (or early - however you look at it) - I may not start my bike trip too early tomorrow. Cheers
| | |
| --- | --- |
| | |
| A typical picture: A sweaty Andi with a Beer :-) | With Gina and Doro |
| | |
| Dance Action - the first | Dance Action - the second |
| | |
| Thats supposed to be an "erotic" look :-) | With Gina and Birgit |
| | |
| In Motion :-) | Later in Vernisage: Dancing with Lisa (finally with a new shirt :-) ) |
February 22nd
Sore Muscles
Its been an intense friday afternoon/night. As always we played soccer. This friday - because of school holidays - we could not play in our usual indoor soccer hall. So we decided to play in the SoccaFive Soccer Arena. This time we finally managed to keep Rene shut - at least for a short while - a proof of that can be seen below in the picture :-)
But not enough with soccer. Friday night also gives the opportunity to dance salsa. Well - danced till they kicked us out at 2 AM.
What else is on the plan for the weekend? More salsa on saturday. Unfortunately we had to skip the workshop in Waidhofen an der Thaya because Lilly had a skiing accident - damaging her knees. Good luck and fast recovery! So - this is not going to happen - but there is a Cuban Night tonight in my old favorite home-town pup Tanzcafe Hoppala. Tomorrow - if the weather is as fine as they predict - its probably time for the first bike tour up to the GIS.
Thats it - enjoy the picture from Rene :-)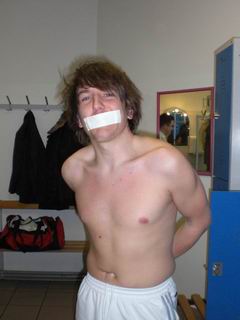 Those of you who know him can probably imagine why we had to shut him up :-)
February 21st
Stuck in Frankfurt
Its just past midnight and I am still not back in Linz. Its been a horrible day in terms of travelling. After arriving 4 hours late in London I had to wait another 5 hours in London to finally get on a plane to Frankfurt - but - I missed the last flight back to Linz. So now I just checked into the Airport Hotel - had a quick dinner - and now I am ready for bed. Its been 18 hours of traveling today - just to get from Belfast to Frankfurt - damn FOG in London.
So - hopefully - if everything goes well from now on - I shoul be back in Linz tomorrow around 11 AM - about 28 hours after I left Belfast today :-( - thats how long it takes to get from Belfast to Linz.
Good Night
----- update ----- Well - guess what. Got up in the morning and thought - hey - in a couple of hours I will be back in Linz. Had a nice breakfast and then made it to the Terminal. The first thing that I saw was that the plane back to Linz is already delayed :-(. So - the Odysee continues.
----- update - finally back to linz -----
To answer the question from yesterday. I left the hotel in Belfast yesterday at 7 AM (8AM CET) and arrived in Linz today at 12:30 PM. In total that would be about 28 hours :-).
My High- and Low-Lights on that trip:
* Low: Waiting on the plane or on the airport alone is REALLY boring
* High: WLAN (WiFi) is available almost everywhere (more or less pricey)
* Low: Some Police Officers in Britain take their work too serious
* High: Lost my wallet on the airplane while disembarking - fortunately somebody found it and returned it to me immediatelly
* Low: Did I mention that waiting is really really boring :-)
* High: The Aiport Hotel in Frankfurt is a fancy place
Thats it. End of Entry.
February 20th
How long does it take to get from Belfast to Linz?
Unfortunately I cannot yet answer that question. I am just listening to the captain of the plane that I am on for almost 2 hours now - ON THE GROUND :-(. Well - there seems to be freezing fog in London - thats the reason why we cannot start. I basically already missed my first connection flight to Duesseldorf. I just hope that I will be able to get back to Linz today. The good thing about the situation is that I can actually pick-up the WiFi signal from the Airports Main Building :-) - the bad thing is that they dont serve beer on the plane :-(
Thats the update. Looking forward to some progress. Cheers
------ update from london ------
Just landed in London. 4 hours later than expected. After 3 hours waiting on the plane in Belfast we finally took off. But - instead of an one hour flight it was close to two hours as we had to circle over London before touch-down. The problem now is that many other flights have been canceled to. Not sure if my current scheduled flight to Frankfurt will actually take place :-(. Good news though is - there are many bars around :-). Prost!
February 19th
Saying Farewell
Saying Farewell is never easy. Saying farewell to some colleagues that I will probably not see in a very long time is definitely hard - but we managed it :-)
As by now its kind of "official". I am going to seek new challenges starting with april. I am looking forward to it - but - on the other side - its really hard to end the stuff that I've done in the past 7 years.
Anyway. Its been my last day in Belfast - its been another good day in work and its been a great night as well. Here are some impressions.
| | |
| --- | --- |
| | |
| The oldest bar in Belfast | there is not only Guinness in Ireland |
| | |
| Thats Lisa. Its been great working with you | As we would say in austria: hau ma den huat drauf |
February 18th
A Day in the Belfast Office
Its been a great day in our Belfast Office. Gave a training to a group of colleagues. Later at night we went out - first we did some indoor-golf (I am really really bad in that). Then we focused on things that I am definetly better in - drinking beer :-)
The most interesting comment I got when I asked some of my guys how they feel about the non-smoking law: "Its interesting what other smells there are (mainly farts)".
Cheers
| | |
| --- | --- |
| | |
| My training group | Indoor Golfing |
| | |
| The guys in the booth | Me and Marty (its been a long time since we last met) |
February 17th
Traveling to Belfast, Ireland
Greetings from London Heathrow - thats where I am right now. After a very short night (2 hours of sleep) I boarded my first plane from Linz to Frankfurt at 6 AM. Now I am waiting for my final flight to Belfast. In total it takes about 7 hours for that trip. I am really looking forward to my first Pint of Guinness in Belfast :-)
I had some interesting experiences on my trip so far - strating with a taxi driver from romania who actually used to use the products of my Company (those from the good old days :-) ). More interesting experiences on the men's room in frankfurt where a guy insisted on smoking a cigarette because he was on a 10 hours flight and there is no way to hold him off smoking :-)
Anyway - trip is good so far. A bit too much waiting - but good. Looking forward to 3 great days in Belfast. Cheers ------ update ----- Here is a quick update from my Belfast trip so far. Checked into the hotel by 1 AM - then had lunch (including 2 pints of guinness). After a short walk through the City I decided to stop fighting my tiredness. So I went to bed - watching a soccer game on TV and softly fell asleep. 12 hours later I woke up :-)
Here are my first impressions:
Welcome to Belfast
Those signs are fortunately all over the place :-)
The new attraction in Belfast: - The Wheel
February 15th
Another dancing night
Just came back from an exhausting - but great ball event. Brigitte asked me to go to the Maturaball of her former school HBLA Elmberg with her. I shouldn't have played soccer that intense in the afternoon because I was really exhausted and my legs felt sore before the ball actually started.
But well - in the end we made it through the evening without giving up before the music stopped :-)
The casualty this night were my shoes - see the pictures below.
The most exciting thing of the evening was the midnight show. They girls and guys from the school made a great traditional and modern dance performance. I was really amazed about their "Schuhplattler".
Thats it - time to go to bed.
| | |
| --- | --- |
| | |
| Dance performance | My shoes :-( |
February 13th
Josef and Walker
Yesterday night I've been to Josef. They had a Pre-Party for todays Austrian Newcomers Award Ceremony. Udo, Hilli, Dale, Joachim and some others were there as well. Before I spend any more words on it I just refer to the pictures below :-)
Tonight I made it to Walkers. Met Clemens. Havent seen him in months - it was really good talking to him again. Well - after some beers - a burger - and a kebap on my way home I am ready for bed.
The plan for the next days:
a) farewell to Irene - she is going on a trip to argentina
b) ball on friday - lots of dancing :-)
c) sports on saturday
d) 4 days in Belfast, Ireland - starting at sunday!!
Cheers
| | |
| --- | --- |
| | |
| Thats Hilli | No need to explain who these two handsome guys are |
| | |
| Captain Agile :-) | And finally - the band |
February 12th
Its tuesday
It feels like a normal tuesday - still a bit tired from monday night. Just came back from a short run with my colleagues - we are all preparing for the upcoming running events.
Thats all - cheers
February 9th
A tour through Upper Austria and Styria
Before I elaborate more on the tour Dale and I've been doing today I want to say some words about last night. We (Sandra, Didi, Britta and I) went to the BRG Auhof Ball in Vereinshaus. It was Sabine's Prom-Night and therefore we took the chance to check out how well she organized the event. It was a great night. Lots of dancing - of course. I took the chance to teach Britta my self invented "Disco-Sam-Sa" - it almost worked with every kind of music (except tango and waltzer).
Today I picked up Dale at 10 AM. I offered him to drive through the country side. He spent the last two weekends in Vienna and Venice - therefore it was time for something not city related. We drove down to Lake Attersee - from there to Hallstadt - continued to Bad Aussee - Liezen - over the Pyhrnpass - back to Linz.
If tomorrow is going to be as nice as today (weatherwise) - I will probably start another bike tour. This time I will most likely protect my knees better than last week. I struggled with my meniscus on monday and tuesday because I was stupid enough to only wear shorts :-)
thats it - cheers
| | |
| --- | --- |
| | |
| The Lindner's | Sabine (basically the host) and me |
| | |
| That weird looking lady is Britta :-) | I've taken this one for Udo - you know the message |
| | |
| Hallstadt | Captain Agile taking pictures |
February 7th
Abpfiff in Freistadt
Yesterday night we went up to Freistadt - into the local brewery for the monthly "Abpfiff". Dale - our colleague from texas who is here for a total of 5 weeks - also joined us for this special beer experience.
Here are some pictures. Cheers
| | |
| --- | --- |
| | |
| Dale (aka Captain Agile) and Thomas (aka Kue, aka Support) | The Apfiff menu: Sausage, Kaiser Roll and Beer |
| | |
| Andi (aka AK), Markus (aka Lampy) and I | The whole group |
February 6th
Bye Bye Carneval - Welcome Lent
The carneval season ended with yesterday's fat tuesday celebrations. Well actually - fat tuesday is not the right word for it. I always thought that what we celebrate on our "Faschingsdienstag" is comparable to the Fat Tuesday that is celebrated in New Orleans during Mardi Gras. I just did some research on it. Seems that Fat Tuesday can be celebrated on every tuesday while Mardi Gras is happening. Here in Austria - its only this particular tuesday. In britain it seems to be called "Pancake Tuesday". Anyway. I was about to party last night - but I quickly changed plans after I walked through the local pubs. Not really sure why - probably I was just not in the mood for it. The alternative program was my new book: Angels and Demons by Dan Brown. I was excited about Da Vinci Code so I thought I should also read the prequel.
Now its wednesday. In about 90 minutes our national soccer team will try to be David - beating Goliath. Goliath in this case is the German national soccer team. Its the first test match for the upcoming european soccer championship where Austria is "allowed" to play because we are co-hosting the tournament with Switzerland. So - the chances are minimal - but - you never know. Our team coach said in a press conference: "Nobody believed that the Giants can beat the Patriots - but they did.". We will know the result in about 3 hours.
The plans for the next days are also already set: Abpfiff in Freistadt on thursday evening followed by meeting some old friends in Josefs. Friday night is dancing night. Didi, Sandra, Britta and I will go to the Maturaball of HAK Aufhof. Thanks Britta by the way - she volunteerd to be my dancing partner for that evening. The remaining weekend plans are still open. Will keep you posted. Cheers
---- (update on the soccer match) ----
I thought that I am watching the wrong game after the first half of the match. Austria was playing a good game - but - to be honest - Germany didnt really play at all. Anyway - we had so many chances to score but no ball made it across the goal line. Second half started out similar - chances for Austria - but - the first shot from Germany - the first Goal - damn! Our team continued to play very well - but - as usual - when you dont score goals you get them. Its now 5 minutes left to play. Germany had 3 real chances - guess what the score is: 3:0 for Germany. But anyway - our team played a good game. They didnt give up till the end - looking forward to the next matches and to the Euro 2008
February 4th
Its been a long night with not much sleep
The SuperBowl ended with a big surprise. The "Underdog" from New York won against the unbeaten New England Patriots. It was an exciting 4th quarter that ended with a victory for the Giants.
Our SuperBowl Night started at 6PM. As every year we first ordered some pizza. Strengthen by the pizza we started to play Poker. I was lucky in the first two rounds. Ended 2nd in the first round and actually won the 2nd round. By then the others knew that I had no clue about Poker and that the first two rounds were just pure luck. From that point they didnt believe my bluffs anymore and my luck was gone as well.
At 3:30 - just before the end of the game - I decided to ride back to my appartment. 15 minutes later I got home - turned on the TV again and watched the final (really exciting) minutes of the game. I think I finally made it to bed by 4:30AM. Got up about 4 hours later.
I hope the lack of sleep wont have too much influence on my salsa night tonight. Thats it - cheers
February 3rd
First Bike Tour
I love winter - I really like when its cold and when there is lots of snow. On the other side - days like today allow me to take the bike for a ride. There is no snow and the temperatures where OK - its been warm enough to wear my bike-shorts. My first plan was to take the shortest route to my parents. On my way up that was almost true - just a little detour. On my way back I tried something new - ended up in St. Georgen an der Gusen and from there I made my way back to Linz. 55km in total - NICE!!
Now its time to relax before our annual SuperBowl Night starts. Pizza, Chips, Beer and Poker till 4 AM. I hope the Patriots win the game. They are the Team from Boston (New England) - of course I have to be a fan of that team :-)
Cheers
February 2nd
THE HEAT IS ON
The "Gasman" came - turned a screw - and took €130 for his 10 minutes appearance. So - the Heat is ON again. No need to lit candles anymore :-)
Its carneval weekend. Tonight is the first event in Maestro - the salsa club is celebrating. Not sure how I will dress up - probably something very light to avoid sweating.
Yesterday night was nice and fortunately not too heavy. We went out for food and some glasses of wine. On my way home I stopped by at the Remembar (because its just on my way home). I met a very interesting group of people: guys from nigeria, india and ireland - and a girl from canada. The irish guy told me that going out in Linz sucks because the people are not really relaxed - he probably is right about that. It usually takes lots of alcohol to get people relaxed and open enough to start talking with other groups. Anyway - seems that he didnt really enjoy it. The conversation with the guy from Nigeria was really interesting - he told me about the difficulties he faces because of his skin color. Seems that austria (or maybe just Linz) doesnt know how to deal with people that are not of our kind.
Thats it for now. I will try to take some pictures tonight. Cheers
---- update from the salsa carneval party ----
Just came home from the salsa carneval party. Its been a great night. Most of the people were dressed up. Here are some pictures.
| | |
| --- | --- |
| | |
| Me with Miss Bikini 08 | Me with Miss Leopard |
| | |
| Me with Miss Dirndln | Two pretty girls |
| | |
| A monk dancing with a nun and another girl | Dancing with Doro |
February 1st
Its COLD
Still no heating. The "Gasmen" is supposed to visit me this morning - looking forward to that meeting :-)
Roman visited me yesterday night and stayed over. First we went out to the Rox Music Bar where we were joined by Dale. Later on we went back to my place - talking about good old times and what the future may bring.
Weekend planning:
* Friday Night: going out with "THE SAMOS" group
* Saturda Night: Salsa Carneval Celebrations in Maestro
* Sunday Night: Superbowl Party
Thats it - still waiting for the gasmen