I've split my diary now to individual months - so - the default page will be the diary of the current month. Here are the links to the other entries so far:

October 31st
Halloween
I made it back to Boston right in time for Halloween. I was able to change my flight back from LA so that I arrived in Boston at 5PM. After visiting "The Office" (thats Christophers) it was time to get dressed for the Halloween Salsa Party at Mambos. I came up with 2 options: a) as a bicyclist - wearing my bike gear or b) as Austrian - wearing my austrian shirt - cap and flag. Stephan then came up with another option - you can see from the pictures below that I took option c :-). Its been a fun party - lots of dancing - and many interesting costumes.
The 31st is not only the last day of October - its also the last day of a 3 week period where Alois was here. Its been fun hanging out with him. We had a good time in Boston, New York, Las Vegas and Los Angeles. Looking forward to seeing him again the next time he is around.
But now its time for bed. 3AM already - well - its kind of midnight - considering that I am still on west coast time. Talking about time. Tomorrow - one week after the europeans - we are going to change our clocks back to winter time. That means - one additional hour of sleep - which means - we can go out longer :-)
Whats the plan for the next days: Bernd is in town - will meet him tomorrow for brunch. At night is time to see a movie with Andreas and on sunday I am honored to give a "new" Bostonian a tour through the city. I will show her my Boston, the sides that I like about it and it should then be clear why I call it my home.
| | |
| --- | --- |
| | |
| Dressed up like a chef - should have dressed up Stephan as an IT-Geek | Dancing with it was kind of hot (in more than one aspect) |
| | |
| The customes waiting for the nomination | The final three - the guy with the brasilian dress won |
October 29th
A week in Los Angeles
Its been the third day in LA at the PDC 2008. Last night we actually went outside the halls of the big convention center where the conference takes place. We got invited to the Universal Studios to enjoy the Theme Park with free rides, free food and drinks. Back in July I had a smiliar event in Orlando during TechEd - so some of the pictures of tonight might be familiar as it is basically a very similar thema park with similar rides and attractions.
Will have another long day tomorrow and then its time to fly back to Boston on friday. I was lucky to change my flight so that I actually get back to Boston on friday night - which happens to be Halloween. Which brings me back to yesterday night - you will see at the pictures from last night that Halloween was the main topic at the Universal Studios.
Thats it - greetings
| | |
| --- | --- |
| | |
| Alois and I as the Flintstone Family | Krustyland: The Simpson Ride at Universal Studios |
| | |
| With a Mummy | Another scary guy |
| | |
| A pig-head with a chain saw | The Universal Studios |
October 26th
What happens in Vegas stays in Vegas
This is a very famous slogan and it makes sense that Alois and I stick to it :-) - maybe we will reveal some stories about the past two days in Vegas but some of it is definitely nothing that should be shared on a public site like this. Well - by now you should be really interested in what happened ;-)
For me the weekend started at 5AM in Boston when I got up to catch my plane. I arrived in Las Vegas at around 11AM local time - meeting with Alois whos flight came in at about the same time from San Francisco. The first way was to our Hotel and then to the Hotelpool. After two hours in the sun it was time for some sight-seeing in Vegas. That means - check out the Hotels and their attractions. At 7PM we went to the Cirque Du Soleil - Mystere Show at Treasure Island. It was amazing - hard to explain. Cirque Du Soleil runs different shows in different Hotels in Vegas. If you ever have the chance to check it out I recommend to spend the money on a ticket.
After that we went to the Venetian and were stunned by the rebuild of Venice - including a water canal with gondolas. We sat down at Marcus Square and had dinner. After that we went on to check out the bars. It was hard to get into the night clubs - too long lines. So we started with a lounge where we met some "very interesting" people (thats the first story I better keep to myself. Because of the jetlag we actually felt pretty tired. So we decided to walk towards our hotel with a stop at the New York New York. We ended up in the Coyote Ugly Bar. We hoped it was like in the movie. Well - it kind of was - but not really what we hoped it to be. The good thing about that visit though was that we met 3 girls from Finnland. Our first approach to them was kind of dismissed - but we worked hard on getting their attention (even after they left the bar).
We finally got home after 5AM. The time in between the last bar and getting home was spent "wisely" with another new and interesting (a little life-threatening) experience.
After 5 or so hours of sleep (we had to check out of the hotel by 11) it was time for Brunch - then some more sight seeing - some shopping - and a final "farewell" to our new friends that we met in Vegas.
Now - its already past midnight we are here at the Sheraton Airport Hotel in L.A. Next task: catch the shuttle bus at 7 to bring us to the conference.
Here are some pictures - there would be more - but - you know: What happens in Vegas stays in Vegas :-)
Good night
| | |
| --- | --- |
| | |
| The view from our Hotel Room | A lonely ranger |
| | |
| Mystere - again - an amazing show | Gondolier on the 2nd floor of the Venetian Hotel |
| | |
| More of the canal that they rebuilt in the Hotel | The bar girl at the Coyote Ugly bar - she tried to entertain the people |
| | |
| On of the many casions in the hotels | Water show at the Bellagio |
October 23rd
Its getting cold - so lets go where it is warm and sunny
Yep - its end of october - and I am in Boston. This means that the leaves have changed their color, its only bright outside from 7 AM to 6PM and its bitterly cold at night - but, you still see some "Bostonians" in their shorts or Flip Flops :-)
After a great night at An Tua Nua it was time for Alois to say good bye to Boston. He is off to San Francisco for 2 days - meeting me again on saturday in Las Vegas where we spend the weekend before we fly to LA for a conference. The weather in Vegas will be nice. The lows there are the highs that we have here in Boston - and the highs are good enough to hang out at the pool during the day. Besides checking out Las Vegas (Sin City), the many hotels, bars and casinos - we are also going to see Cirque Du Soleil on saturday evening.
While waiting for the upcoming weekend and the good time that we will have there, I am going to post some more pictures from last weekend. Its been a crazy and fun weekend with funny stories to tell, like: Homeless at 2AM after we have been told that our room has been taken - 9 hours later we were fine dining at the Rockefeller Center. Almost to the point where we got no drinks served anymore (because I was very rude to a bartender) - to the point where we checked our luggage in a very fancy restaurant for free (for the whole day).
Well - it was a great time. 2 days from now it will be fun again. Before that its time for some salsa - a little bit of work on friday - a bit more salsa and hopefully a good 5 hour flight to Vegas.
Thats it - cu
| | |
| --- | --- |
| | |
| Inside Grand Central Station | New York Stock Exchange on Wall Street |
| | |
| The french lady | Broadway and 5th |
| | |
| Broadway and 5th from a different angle | Palms in one of the Financial Buildings at Ground Zero |
October 23rd
The Tafelspitz Dinner
Now there is some time to upload some of the pictures from last night where Alois cooked Tafelspitz for us. Here we go:
| | |
| --- | --- |
| | |
| First course: Soup with vegetables and pasta | Ready for the Entree: Prost Guys! |
| | |
| The Tafelspitz (thats the beefy part) with carrots, cream spinach, chive sauce and roasted potatos | And the desert (the schnaps is somewhere out of the picture) |
October 20th
Tafelspitz and the first New York Story
Alois - being a chef in his free time - offered to prepare Tafelspitz for Stephan and me. Both are standing in the kitchen right now working on the dish while I enjoy my wheat beer and update my web site. Pictures about the cook-out will follow.
But now its time for the first story from our trip to New York. Its probably to most interesting and funniest. Its better to tell it in person than write it up in a blog entry because this story leaves a lot of room for telling it in a very "dramatic" but funny way. So - whenever you seen Alois or me in person - and you are interesting in hearing our story about Hostels in New York - just ask us.
Here is the short and a"approved" version for my blog:
I booked a Hostel online - 103rd and Amsterdam Avenue - on the upper west side of New York. We got there around noon when we got told that the rooms wont be available before 4PM and that we have to check-in no later than 2AM. As we had a piece of luggage we checked it in the locker room ---- BREAK - Tafelspitz is ready - continue in a bit :-). OK - back on writing (food was fabulous). Ok - so - we checked the luggage and started our journey through New York. Our exact route and and what we have seen and done is part of another story. The important part for this story is that we ended up having dinner and then hopping from bar to bar. At 1:30 AM we decided to finally go to the Hostel to claim our room. Arriving there at 1:45 we hoped to finally get into bed. We walked in - in a very good mood (we did not just drink water that night) - I presented my room reservation and expected the room key. Instead of that the lady said "Sorry - we are overbooked - we dont have a room for you". Thats when we felt homeless in New York at almost 2 AM. After some argueing she called other hostels in the area to figure out available rooms. Despite the fact that there was a room available in a Hostel not too far away we decided to call David (the guy we hung out almost all night) asking him if we could crash at his place. Fortunately he offered us his couch.
We learned that - although you might have a hostel reservation - never be too confident that you actually get a bed. And again - the story (and all the side-stories of these evening) are much more interesting when told from face-to-face instead of reading it.
Now its time to go to bed - its almost 1AM. Pictures from tonights cooking event will follow tomorrow.
Whats the plan for the remaining week? Checking out a movie tomorrow evening - salsa on wednesday - no plans for thursday or friday yet - and yeah - saturday - its time for Las Vegas.
Good night.
October 19th
New York
Just came back from a great trip to New York. 2 days in the Big Apple. Its been a trip with many funny stories to tell - but I will postpone that to tomorrow - time to go to bed now - but here are the pictures.
Well - but before I stop this entry I want to give you a teaser for the stories that I will tell you tomorrow: "Never assume that a Hostelreservation is secure" :-)
good night. P.S.: Unfortunately the Red Sox did not make it into the World Series :-( (Congratulations to Tampa Bay)
| | |
| --- | --- |
| | |
| Friday night: Dancing Salsa at Mambos. Raj, Alois and myself enjoyed it a lot | Central Park |
| | |
| Bethesda Fountain in Central Park | David Lettermans Studio on Broadway |
| | |
| Reading Room in the New York Public Library | Ice Skating at the Rockerfeller Center |
| | |
| The Bull down near Wall Street | Lower Manhatten from the Staten Island Ferry |
| | |
| Crossing through the neighborhood of Chelsea | From the Empire State Building - looking towards Lower Manhatten |
October 17th
Boston is happy again - and - New York is waiting for us
The Red Sox made the people in Boston happy again. After 2 losses against Tampa Bay and a very bad start in yesterdays game the made the turnaround. It was 0:7 in the 7th inning for the guys from Florida but the boys from Boston managed to win 8:7 in the end opening up the chance to make it to the final in case they win they next two games.
This weekend Alois and I are going down to check out New York City. Boston (well actually Cambridge) however would have hosted one of the largest single sport events: Head of the Charles Regatta. I've seen it 3 years ago and was impressed by the guys and girls performing this sport on the Charles River here in Boston. About 300000 spectators are expected while teams from all over the world are going to compete against each other.
Now its time to go down to Christophers and then to Mambos for some salsa dancing. Tomorrow early morning we head south to NYC - looking forward to it.
Before I close this entry I want to announce that I got my first US Pay Check this week: makes me feel a little bit more american than before :-)
bye bye
October 15th
Mid Week
Its wednesday - which means - only 2 days left before we can enjoy the weekend. The past days were not the most successful ones in terms of sports. Seems that neither the Red Sox nor the Austrian Soccer Team are making it to the next round.
What else is going on? Well - Alois and I shared a cubicle today. It was very "cosy" :-). We had no special evening program for the last two days but I hope that we both go out salsa dancing tonight - finally wanna show him how the salsa scene looks like in Boston.
The more exciting thing comes up on the weekend where we are driving down to New York City. Joanna is giving us a ride as she is visiting friends. Just figured out where we will stay - Upper West Side. It will be the first time for Alois to visit the "Big Apple". The weather should be fine - although - its supposed to get much colder than it is now. Speaking of the weather. Its been amazing the past days - considering that it is mid of october.
So - there are more stories to come on the weekend. Cheers
| | |
| --- | --- |
| | |
| Alois and I working shoulder to shoulder in my cubicle | Thats our nicer side :-) |
October 13th
Columbus Day
The US celebrated Columbus Day today. Schools, Financial Institutes and some other companies were closed today. But Alois and I had to work :-( - well - we had a great weekend so it was ok to actually get some work done after enjoying a very sunny and warm weekend in Boston.
Yesterday we checked out the Harvard Oktoberfest. Because of the beautiful weather almost too many people were attracted to that event. It was almost impossible to walk through the streets and we were unlucky to actually find a place to eat without waiting in line for quite a while. So we decided to just have a beer (so that we can at least claim we participated in the festival) and then went a bit outside of Harvard to get our mid-afternoon lunch/dinner.
The evening was eventfull too: first I showed Alois how great it is to go grocery shopping in the US: self checkout is a lot of fun :-). After having an early evening beer in the appartment I drove Alois home to his hotel. But the night was not yet over for me. My usual salsa place on sunday - with life band and great dancers just around the corner - celebrated their farewell. Johhny D's Salsa night is no longer :-( - but - we really had a great time this last sunday. The band played till one - finally got to bed around 2:30 with not much time left to sleep till getting up for work on monday morning.
Now its monday evening. Just came back from a kind of "reunion" of some folks from my former company. I am fortunate: I made some good friends when I was working in Boston in 2005 and I am happy that we meet from time to time. Tonight I met Mark and Steve for some beers at the Summer Shack.
The sports update of the day - before I head to bed is not as good as many Bostonians would like it: Red Sox lost game 2 and 3 in the playoff. And the Patriots lost their sunday game against Tampa Bay (quote from Andreas: "I didn't even know that Tampa had a team&quot).
Have a great week.
| | |
| --- | --- |
| | |
| McCain - McCan't: political campaigning at Harvard Square | The longest sofa of the world at the Harvard Oktoberfest |
| | |
| Is that the house of Winnie? | Two really cool looking guys hanging on to a meter on Mass Ave. |
| | |
| Touching John Harvards shoe - may it help :-) | Sundown at the Charles |
October 11th
Alois in Town - Checking out the City
Alois came in last night. Of course we started out with a visit to Christophers - Nachos and Beer. Today we did a big tour through Boston. I think we made it to all the major sites in Boston by foot - it was a long long walk.
Besides checking out a new city - Alois also had a new culinary experience: Lobster. We ended the day with a Cocktail in Christophers and another drink in the appartment.
Tomorrow (sunday) is the Oktoberfest in Harvard Square. Thats the quick update. Here are the pictures
| | |
| --- | --- |
| | |
| Nachos and Beer at Christohpers | Rob served us last night |
| | |
| Zakim Bunker Hill Bridge in Boston | Anti-War Demonstration in Boston Common |
| | |
| At the Reflection Pool | "No swimming" in the reflection pool - hard to do with only 30 cm of water :-) |
| | |
| Alois trapped by the water | From a different angle |
| | |
| Eating Clams | And Lobster - yummie |
October 10th
Weekend's here - Alois is coming
Its been a good week. Took the bike to the office only twice this week. With only 4 degrees in the morning it was almost a little bit too chilly to hop on the bike for 45 minutes without proper clothing. The cold nights/mornings are however gone now - seems we are going to have several really nice and warm days coming up. Just perfect for the weekend. Alois is coming in tonight - he will be in the states for the next 3 weeks. 2 of them we will be in Boston - one we will be on the west coast.
Today I finally got my Massachusetts Liquor ID. Now I do no longer need to bring my passport when I go out - yahooo :-). Next step for me will be to get a US driver license.
Thats the update for this week. More information and pictures to come this weekend. Cheers
| | |
| --- | --- |
| | |
| The Office means: He is down at Christophers :-) | My first official US ID Card |
October 6th
Visitors in Town
The next visitors arrived today - unfortunately they already leave tomorrow. So here is the full story:
Got up in the morning at 6:30 - realizing that it was still kind of dark outside. Too dark to hop on the bike without a light. So I waited till 7. After the first 10 seconds I could feel the cold air - after 20 seconds I wished I had warmer clothes on - after 30 seconds I thought that better go back and get some warmer clothes. Well - in the end I made it to the office with some "important parts" of my body half frozen :-)
After coming back in the evening (not as cold as on the way to work) I waited for Stefan and Gary to call me. They arrived in Boston at 6:30 PM - made it to the hotel by 7:30PM where I picked them up at around 8PM. After a short tour through Cambridge and Boston we ended up at Christophers. Two beers and some food later I brought them back to the Hotel. Now - being back in the appartment - Stephan and I are watching the final innings of the Red Sox game.
Whats coming up? Presidental debate tomorrow night. Salsa on wednesday and thursday. Alois coming to town on friday.
Cheers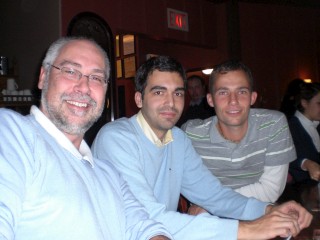 Kind of felt like a reunion
October 5th
First weekend in October
It was the first weekend in october. Its been sunny during the day with nice warm temperatures. But - the evenings and the nights are already very cold. Had a great bike trip on saturday. As Stephan and I may move to Jamaica Plain I checked out the bike routes from there to my office. It turned out that it is 4km extra in each direcion - making it a total of about 42km each day. Thats a lot - but still ok to handle.
At night I checked out Illuminate Boston. Its an art project that illuminates different sites in Boston. I went to the North State Street Bridge which hosted a salsa event. Its been the smallest salsa dance floor I've ever seen - but it was nice.
Sunday turned out to be "the typical" program: soccer in the morning and then some open house's. We are still looking at other houses just in case the current one will not be sold to Stephan. In the late afternoon we made it to Christophers for beer, nachos and some other food. While enjoying the drinks and food we watched the New England Patriots and their victory against the team from San Francisco. Now its late in the evening - but - sunday is not yet over. The next game is waiting for us. The Red Sox play the LA Angels.
Here are some pictures of last night. Cheers
| | |
| --- | --- |
| | |
| Special "Fog Show" at the Grand Opening of the new Park in Boston | Christina - one of the Salsa dancers on the bridge |
| | |
| Salsa on the bridge. The small strip of tiles made the dancefloor | Later in Havana Club - Dancing with Joanna |
October 3rd
Back in Boston
After 3 weeks on the road I will have 3 weeks in Boston. The flight from California to Boston was easy - but I didnt really get a lot of sleep. Arrived at 5AM - was back in the appartment at 5:30. Besides some work that I did from home I finally got my Massachusetts ID. Well - actually I got a so called "Liquor ID" which basically is the same. This time it only took me 20 minutes to wait in line instead of 2 hours last time when I went to "The Registry". After that mission was accomplished Stephan, Sidney (a friend of Stephan) and I went to check out a house in Jamaica Plain. It was a great place - great neighborhood. In case we are going to move in I need to check out how my daily commute to work would look like. Therefore I am going to check the route out by bike tomorrow.
Whats coming up next? Some visitors! Stefan (aka Unti) and Gary are going to be in Boston on monday. They are two former colleagues of mine. And then on friday its time for Alois to visit me for 3 weeks. He is on a business trip and we will stay 2 weeks in Boston and one week in LA with two weekends in New York and Las Vegas - looking forward to that.
The picture of today was taken this week at the StarWest conference in California.
Cheers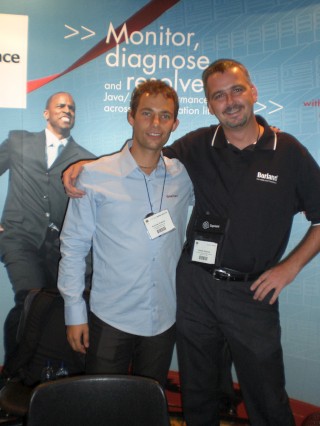 Didi and I in California - was good seeing him again
October 2nd
My first 24 hours as US Employee
Its done. Starting with October 1st I am officially employed in the US. It took a while to get the social security number - but now I am all set. What will change for me? I get a bi-monthly paycheck instead of monthly. Need to pay taxes on my own - they are not automaticall collected. Only 3 weeks of vacation instead of 5.
Its the last day in Disneyland for me. Have a presentation at 11 and several hours at our company's exhibitor booth ahead of me. At 9 am heading back to Boston bringing me home at 5AM in the morning.
Whats the plan for the next days? Looking at a house in Jamaica Plain - going to The Registry to get my Massachusetts ID - maybe checking out the Harpoon Brewery Oktoberfest - Salsa Dancing - Sports - ...
Thats it. cu